A little cold, a little ramble. We left behind the foggy glass and perennial leafiness of the Anna Scripps Whitcomb Conservatory and moved toward northeast end of Belle Isle as the sun did its damnedest to shine.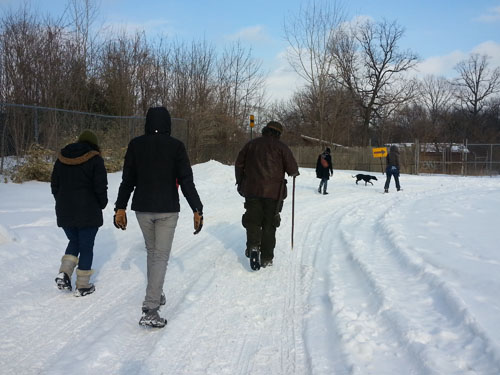 It didn't take long before ramblers were speculating about business plans for a cafe on Belle Isle. Trudging between the frozen canals and the old zoo with its marvelous domed structures and paths swooping overhead, we entered the forest. One rambler commented on the paucity of massive trees. "They're mostly ash," explained another. Then we met Bert, a viny old soul outfitted with a spigot.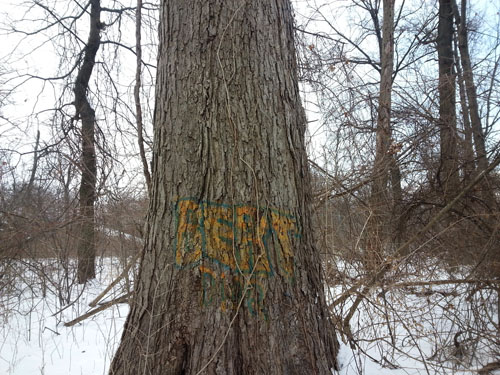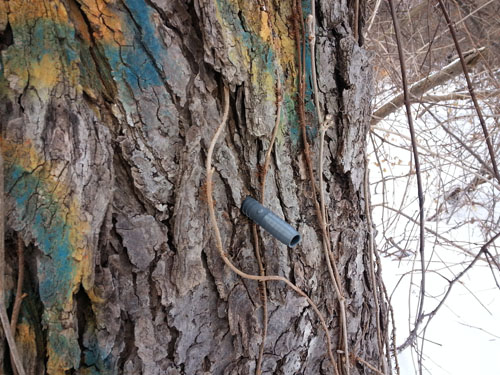 After trekking single-file through the woods, following the snowy trail divoted with ski tracks, we decided against venturing to the windy point where the William Livingstone memorial lighthouse sits, because what's so exciting about the only marble lighthouse in the United States, anyway? We ran into some friends out driving with a camera lens enormous enough to be easily mistaken for a tripod. They advised us of nearby bald eagles, having just watched one consume a duck out on the ice.
We curved past the nature zoo, admiring its lavish bird villas, and cut behind Lake Muskoday in search of the lonely covered bridge. We sunk into snow up to our knees, not to speak of the snow still packed underfoot, wondering about the original purpose of a series of small buildings that most recently housed a disc golf center.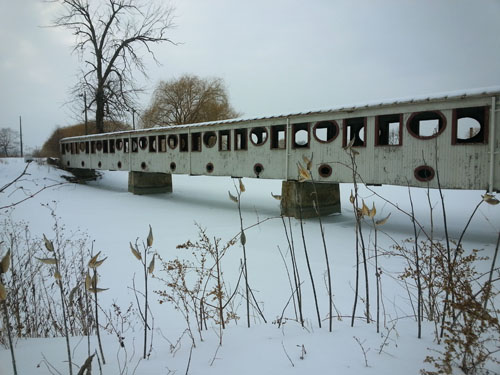 The crumbly bridge was filled with curious little graffiti and what we reckoned might be the nests of paper wasps, though they were less numerous than in the past. We sat on the benches that line either side of the bridge, trying to hug some warmth back into a cold dog, before deciding the better strategy might be to keep moving. In a clearing, huge stacks of things better called tree trunks than logs were piled high, probably evidence of Michigan's DNR at work tidying the trails. We joked about making a nice bonfire.
We never quite made it to the beach, but it was a lovely ramble nonetheless. A fleet of huge snowflakes settled all around us as we parted ways at the conservatory.
We won't be rambling again until April, but there are lots of events on the calendar for early spring, like the annual Marche du Nain Rouge on Sunday, March 23. This year's march will have a special contingent we encourage you to join — the Anti-Funeral Procession for Cass Corridor.