We're back from another successful ramble this weekend, just in time for the first snow. Thanks very much to the intrepid souls and soles who made yesterday's walk possible. Nobody even got a flat tire. It was a satisfying jaunt covering about 6.5 miles and three places where vehicles are unlikely to be found — pedestrian bridges, a car-free street, and train tracks.
We started in the Woodbridge Pub Community Garden, moving northeast against wind and traffic din across three pedestrian bridges spanning M-10 and I-94, the endangered status of which warrants frequent checks on their perseverance. In between, we admired a stand of Detroit's ubiquitous milkweed and speculated on its warmth as a jacket filler.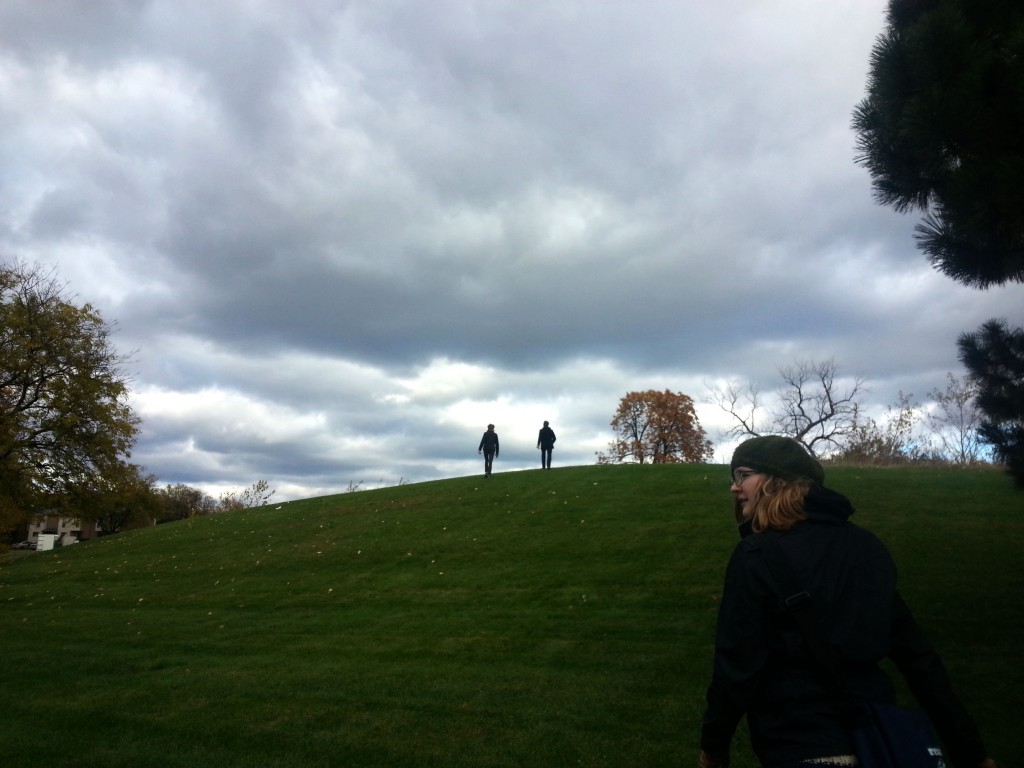 After stopping for beverages to warm our hands at Stella Good Coffee in the Fisher building, we tried to explore underground tunnels advertised on the green Michigan historical site plaque in the lobby. The tunnels were appealing but mostly inaccessible, protected by glass sliding doors that slide aside for authorized personnel only. Reemerging to find the wind had died down, we resumed our northeasterly path.
Our destination was the charming carless block of Pallister, where houses face a brick-paved street ending in a nice park (surveillance cameras in use, a sign warned). While in the neighborhood, we visited Virginia Park, another oddly curved street that truncates at a small green space and low brick wall at Woodward.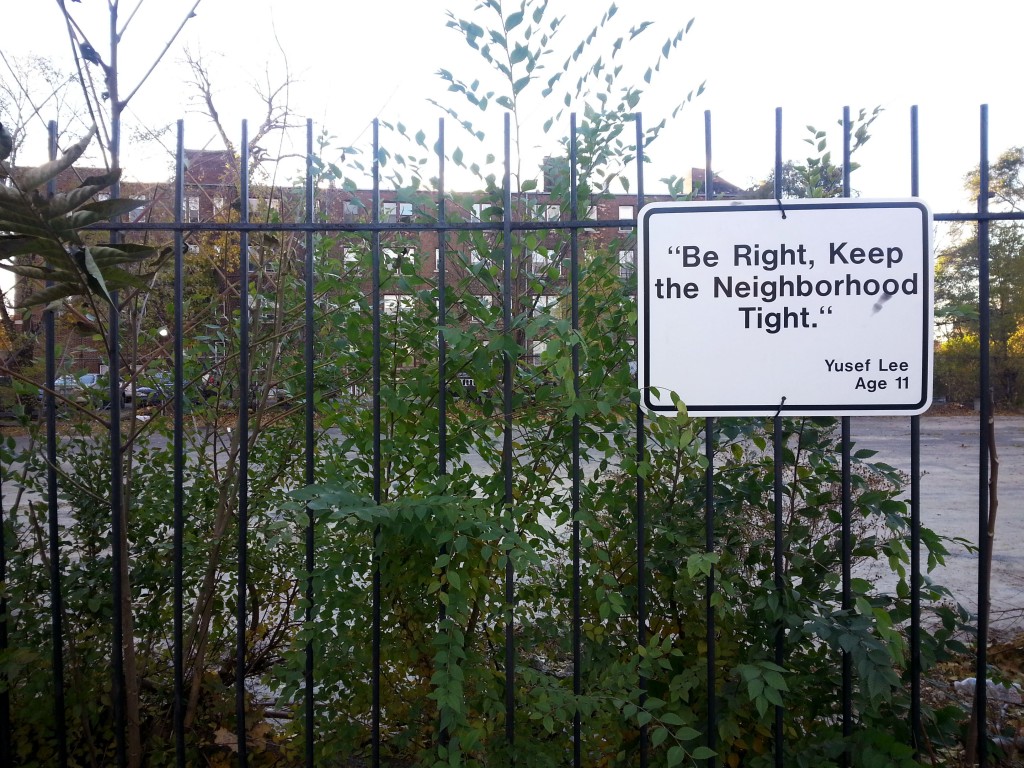 Leaves crunched underfoot. None of the usual fauna were present on this walk — no dogs on leashes, no strays on the tracks, barely any pigeons. Instead there were the graffiti iguana guarding the pedestrian overpasses, a skeleton at the side of the train tracks, and on Virginia Park, one rambler yelled about seeing whole turkeys. Another gullible rambler scrutinized the shrubbery before realizing that the birds were advertised at an eatery across the street.
We went south on Third, cut back to Second, and boarded the train tracks at the easy-access ramp so generous it looks like it was designed with ADA compliance in mind.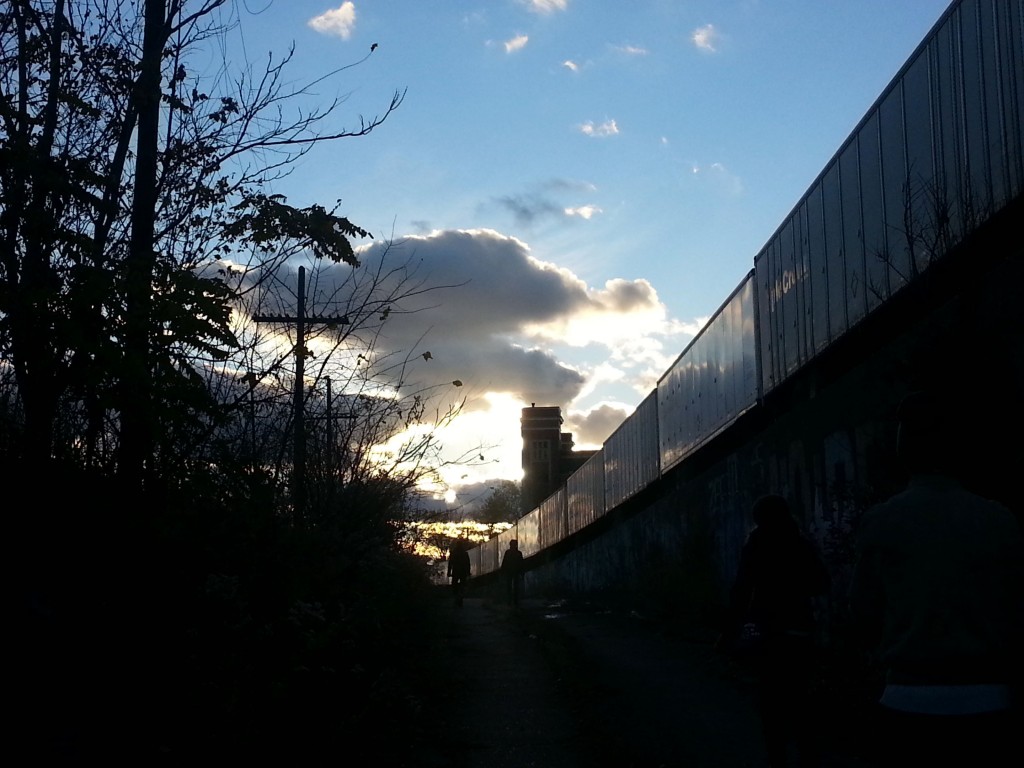 The subject of urban exploration came up, and we discussed the meaning of the phrase in the days before Instagram and vanilla ruin porn, back when the infamous zine Infiltration was a most admired source of information on sneaking and entering with finesse. "It used to mean something a lot more like this, I think," rambler Timothy Boscarino commented. "A certain way of interacting with the built environment. Wandering around seeing what there is to see."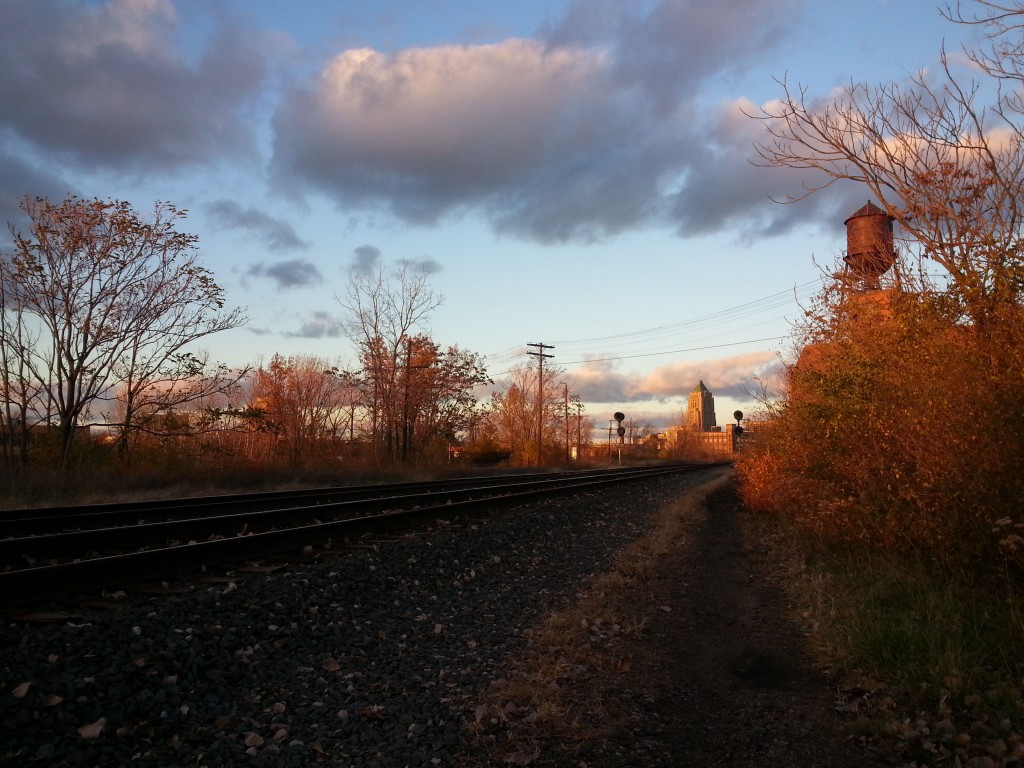 Trains came and went, passing us like large, sedately lumbering beasts, and we watched the sun descend before exiting the tracks and winding back through the north end of Woodbridge as evening set in.