Walking through Corktown on a typical route southbound to the riverfront, the road is transformed into a slushy single lane that is the real estate of honking, unsympathetic taxis. Their tires kick up clods of grey sludge as they speed back to their headquarters. The conditions aren't ideal — outside of densely residential or commercial areas, sidewalks are nonexistent, snowed into oblivion. Pedestrians are left to fend for themselves, dodging crumbling snowbanks and the vast ponds of murky snowmelt radiating from the curbs. Sharing the streets with impatient drivers, I navigate these gingerly and keep moving.
Where Vermont bends into Porter, it's quiet as usual outside Ponyride. On the other end of the block, at the intersection of Rosa Parks, a pair of utility trucks is out, servicing who knows what. The two contractors, chatting, look at me suspiciously. I issue a generic Detroit greeting involving such pleasantries as hellos and how-you-doings. They kind of nod in return. Distracted by an incomprehensible sticker on the b-pillar of the leading truck, I consider taking a picture, but deem it weird and pointless. Looking back at the guys looking back at me, I carry on toward the river.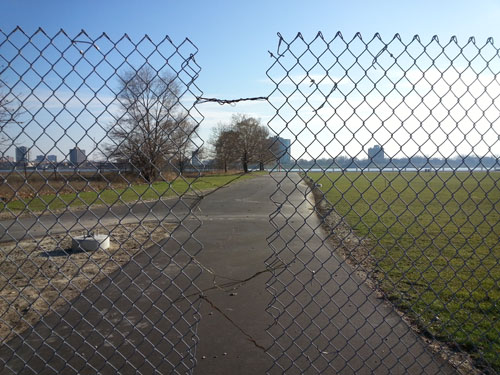 The riverfront has changed significantly in the past year. Since we last rambled there, the trees, except for a few lonely willow specimens, have been cut down, and red emergency phones have been installed in their place. All of this is behind a chainlink fence dotted with "private property no trespassing" signs. It's progress everywhere, except for the remaining accessible narrow nub at the end of Rosa Parks where people still fish as long as the river isn't frozen.
By the afternoon, the media's caught wind of a new expansion in Dan Gilbert's empire, the Detroit billionaire darling lauded with catalyzing the most profound revitalization the city has seen in decades. His focus has been building a two square mile piece of the downtown business district into a workable, liveable, and, incredibly, walkable destination. But Crain's calls Gilbert's new Corktown warehouse, the building I had unknowingly ambled past hours before, "about as anti-Gilbert as it gets."
The building at Rosa Parks and Porter was purchased in November from the owner of Boulevard & Trumbull Towing. The real estate office facilitating the deal said that they supposed Gilbert's new acquisition would be used for "warehousing for the owner's personal belongings." Deadline Detroit posits that "we can only assume a Gilbert-owned industrial warehouse will be used to store all the small buildings he doesn't want anymore."
So what will he really do with this odd purchase? If only Curbed were correct in their glib suggestion on the motivation behind Gilbert's strange new land use. "An indoor beach, perhaps?" they wonder. "There are two cryptic clues: The seller's lawyer told Crain's that the warehouse would be a great place to "run something that required a lot of electricity," while CoStar added that "some kind of communication center" will be installed."
Does this mean a communication center like the infamous state-of-the-art one currently housed downtown in the Chase building? It's unlikely that there's any plan to relocate the center to this decentralized spot, but it's impossible to imagine a Gilbert building without its fair share of cameras.
According to WXYZ, as of October Gilbert had installed 300 cameras in his downtown stomping grounds. Let's just say it's doubtful the plan has ended there. Some downtown residents claim that the cameras now number as many as 600. With these cameras "[o]perators can zoom right in on individuals. All of the images are recorded," ostensibly helping police identify suspects.
We can hope that the subjects of surveillance will be limited to criminals, but will they? What of the homeless, the rambling, the otherwise quirky individuals who don't fit the whims of Gilbert and his 7,600 young professionals spiking demand in the downtown housing market? The evictions of longtime residents are taking place on camera. As one Detroit writer said of Gilbert, "He also just sent a notice to one of my ex-girlfriends, explaining he has purchased the apartment building she's lived in for the last 16 years and his future plans don't include her." If not welcome to live their lives within the walls of their own homes downtown, how welcome will they be to visit their old streets?
Basically, these improvements downtown just mean that Fernando Palazuelo has to deal with more bodies snatched from high-surveillance areas getting dumped at his new house on E. Grand Boulevard, further dividing a city whose edges are already sagging under the weight of heavy segregation. Crimes will continue to be pushed to outlying areas where "nobody" lives, places actually inhabited by plenty of people who are not Gilbert's new 1%.
No one can argue against the local benefits of increased security downtown, and Gilbert's surveillance plan has made for neighborly partnerships with General Motors, the Ilitches, and Compuware, not to mention Detroit, Wayne County, and Wayne State police, which itself has a small empire of cameras. Detroit Police Chief James Craig optimistically said, "I'm hopeful that sometime in the very near future that the Detroit Police Department can replicate and even expand beyond the technology being used in Rock's Ventures," adding that it was very nice to be "invited in" to use the system during special events.
It seems that what Dan Gilbert wants, Dan Gilbert will get, with city officials paying gentle lip service to his empire, dubbed Opportunity Detroit. As previous mayor Dave Bing told the New York Times last year about his relationship with Gilbert, "My job is to knock down as many barriers as possible and get out of the way," expediting permits while longtime Detroiters are left to abide by bureaucracy's schedule.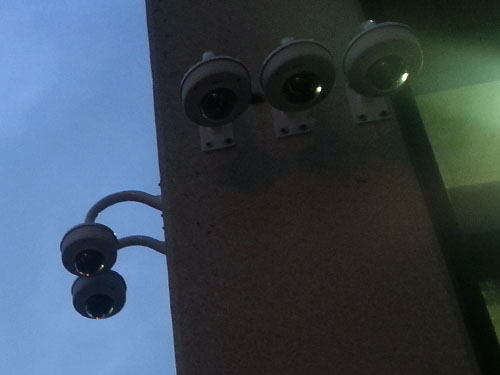 Rambling downtown last weekend, the cameras' presence was palpable even through the veil of oncoming snowstorm. As a Detroiter who, like most, does not reside downtown, it's been luxurious having my activities go uncharted by an omniscient eye, or at least only as much I let big data peek in. No more. Welcome to Corktown, cameras! Empire Detroit surveillance is now coming to a neighborhood near you.