Although Detroit still has more parks than it can handle, after having leased Belle Isle to Michigan's Department of Natural Resources and temporarily closing fifty of them last year, there is a persistent trend of Midtown parks lately coming under siege. Here are some troubled areas in the greater 7.2:
Redmond Plaza, fenced off and soon to be remodelled by Midtown Detroit, Inc., for benefit of new restaurant goers
Unofficial dogpark at Canfield and Trumbull, unfortunately developed this winter into bland rental units.
Current construction that has levelled the gangly tangles of art in the awkward slice of Wick Park at Martin Luther King, Jr. and Cass, handed over last October by CCNDC to Cass Plaza Apartments.
Imminent threat of development of the neglected city-owned Wigle Recreation Center at Selden and the Lodge, as vinyl village is rumored to soon seep across the highway. The city issued a Request for Proposals in 2011, stipulating that an experienced developer "renovate the existing recreation structure and/or construct a suitable development at the site." Guess which one they'll pick. Another RFP was issued last month. Competing rumors say that the park has been adopted by DTE Energy.
And, a close call this winter as Cass Park was nearly gifted to Mike Ilitch. Maybe, like a lot of retirees his age, he's working toward a secret second career as a master gardener.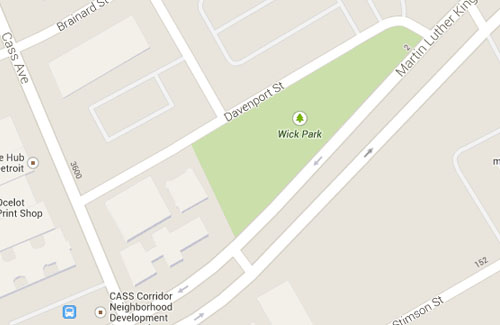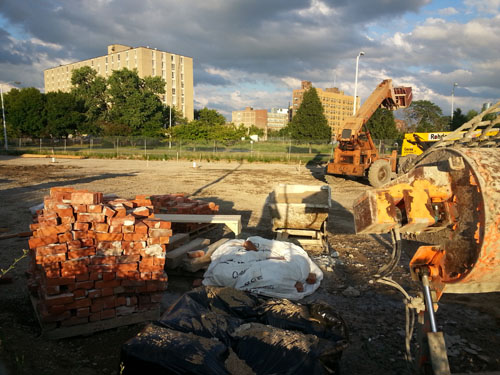 In return, we get a stinky greenway and a speck of Shinola-branded dog park that no pedestrians can look reasonable entering unless accompanied by a well-socialized dog. Not sure exactly what we're supposed to do with those picnic tables within the park — obviously not for either human or canine use! Although one day I did see a woman eating an apple at one table while her dog obliviously romped.
The cool Adopt-a-Park program launched by Mayor Mike Duggan's office this spring is evidently not applicable when development money is at stake, with none of Midtown's green spaces on the list for adoption, despite the persuasive factors of density, need, desire, and money for parks. Midtown may not have as many kids as other neighborhoods in the city, but adults need green spaces, too. Parks are for everyone, not just children, drunks, and crackheads. Or dogs.
Fortunately, the park forecast overall is looking up, with Brennan Pools at Rouge Park reopening today after stagnating for two underfunded years. Imagine if Midtown's crusty Louis Stone Pool complex were similarly revitalized!
UPDATE 07.10.14:
Turns out everybody else is keeping an eye on Detroit's parks, too! WDET has launched Detroit Park Watch, a wonderful program to monitor the condition of city parks this summer after Mayor Duggan pledged to keep 250 of them open, almost ten times as many as were maintained last year.
By visiting a park and reporting its status either online or by text, contributors can enjoy their greenspaces and help keep government accountable. It's all the best part, but the other best part is how WDET is keeping track of anecdotes reported by park visitors. "Beyond the data, we will actively look to tell stories about these parks (like why is Twork Park called Twork Park?) and those who are taking care of them," says WDET's Terry Parris Jr., coordinator of the project. The site also features a great map where you can search for your nearest parks and read reports on their status by WDET or citizen park-goers.