Announcement! We're at it again. Join us on a little ramb at 5:00 this Sunday, June 22. Read on for details.
This past weekend, ramblers convened beneath scorching sun to participate in nothing more than an ordinary June day. We met in Veterans' Park on the south end of town to set off in celebration of Bloomsday and Dalloway Day, midsummer literary holidays inspired by real and fictional walks on ordinary days in June.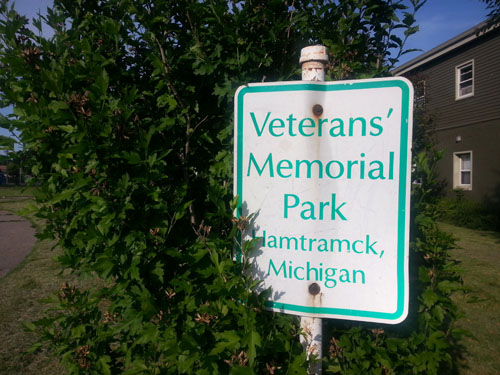 Ramblers took the 'holiday' aspect of this ramble more seriously than its origins might demand. The fictional walks in both books start out with the intent of accomplishing an errand. Most ramblers had no errands to do on a weekend afternoon, except one who adopted the classic Mrs. Dalloway task of picking flowers. Without a purpose, the ramble slumped shapelessly northward, strung along by the loose intention to arrive at another park before tacking west and weaving through the center of town.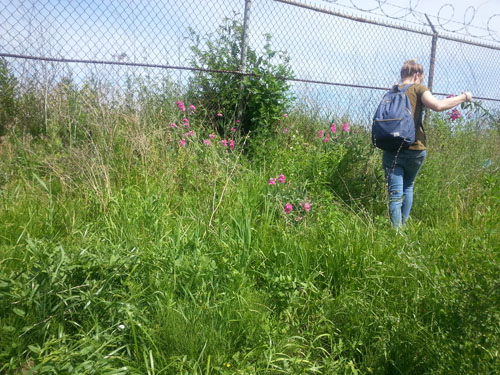 It didn't take long before ramblers were bemoaning the deficit of street trees, seeking shade at any opportunity. On subsequent unofficial rambles during the week, one rambler who was unable to come on Sunday offered that, in some parts of town, trees went missing in the tornado that touched down in the '90s. Either way, areas we rambled could benefit from some greening.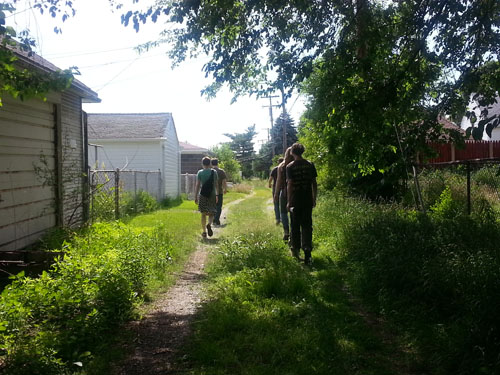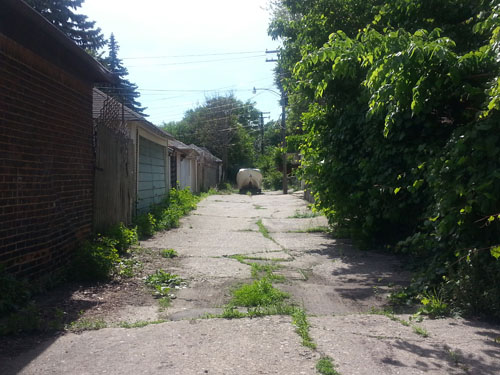 The alleys on this side of town — some of it actually Detroit — had a character all their own. The tidy paved alleys of other blocks, overrun with skipping children and neatly lined with trash bins, were not to be found here. These were often pastoral, though some had strange amenities like carpet. Saying hello to a family hanging out in their backyard and complimenting their garden, they asked what we were doing there. "Be careful," they warned, "you could get mugged back there." A few more feet up the alley I came across a comic plastic squirt gun.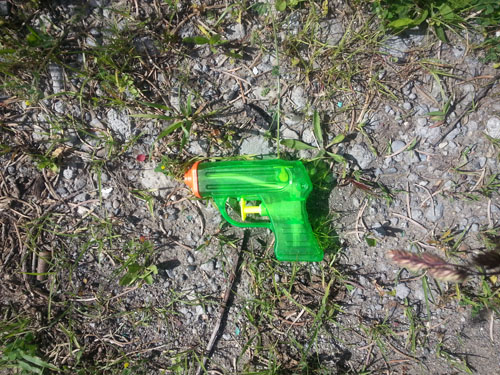 We were momentarily cheered by a sprinkler set up on somebody's lawn. After trooping through two parks, ramblers ignored an ice cream truck and suggestions to go north just another block to pass by the Power House Project's art houses, and made a saggy beeline for Hamtramck Disneyland. As most ramblers had never been there, this was definitely a bright spot. We signed the guestbook and sampled nearby mulberries, the first ripe ones of the season.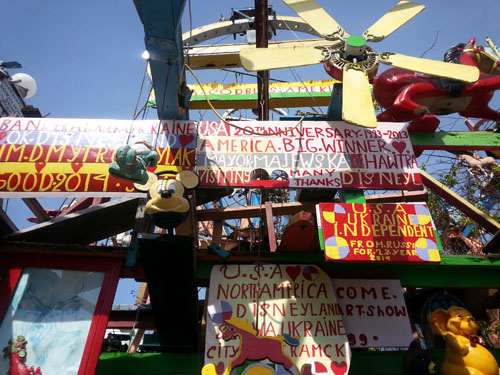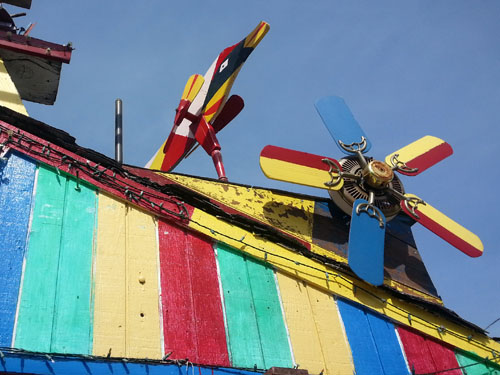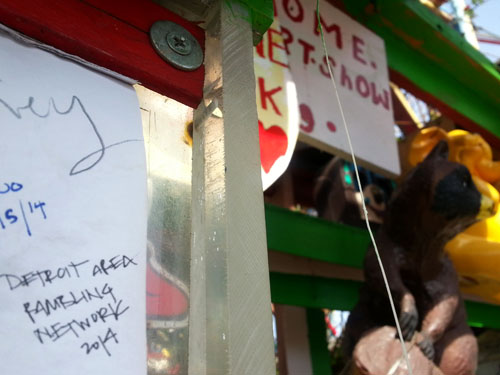 Next was coffee and samosas at Bengali food favorite Aladdin. Despite the heat that drove a fraction of our group to wait outside, deeming it cooler, ramblers eschewed the adorable Burk's Igloo ice cream stand. At one rambler's suggestion, we continued south on Conant to see the "business district," witnessing a party and literal signs of globalization. Realizing that we might have rather been on Joseph Campau the whole time, we veered over there for a few final blocks near Holbrook, admiring odd hats in the windows and discussing dreams for operating storefronts of our own.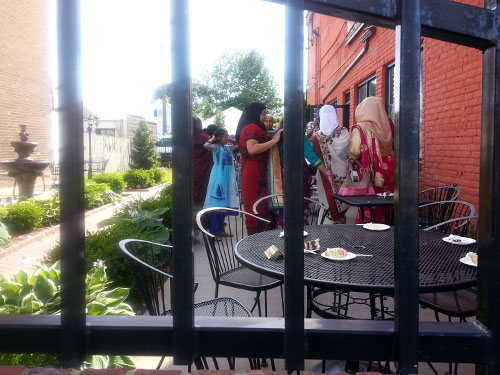 As the sun blared unkindly at us, ramblers voted to call it quits. We checked out Keyworth Stadium and took a shortcut through an empty lot to look at the old Hamtramck Stadium at the rear of Veterans' Park, a historic site one rambler pointed out is one of just twelve remaining Negro League baseball stadiums.
This ramble and follow-up walks during the week, accompanied and solo, made me wistful for the time I lived in Hamtramck years ago, first discovering what a "walkable" place might mean. Our Bloomsday ramble missed much of what makes Hamtramck Hamtramck to me. The busy streets, revealing alleys, bustling commerce, many languages, the people, families, kids, the little houses set far back from the street, the ornate churches, the converted homes that once were corner bars or stores.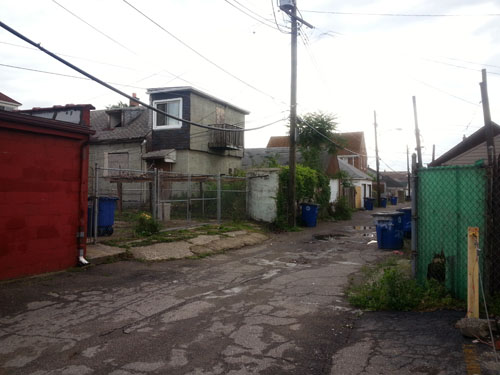 In setting out to cover a geographic distance, which is not a bad strategy in exploring Detroit where interesting parts are farther flung, we missed our whole reason for meeting in Hamtramck — the density of the tiny 2.09 square mile city, the diversity in such a small area that makes it so engaging despite covering far shorter stretches of latitudinal or longitudinal terrain.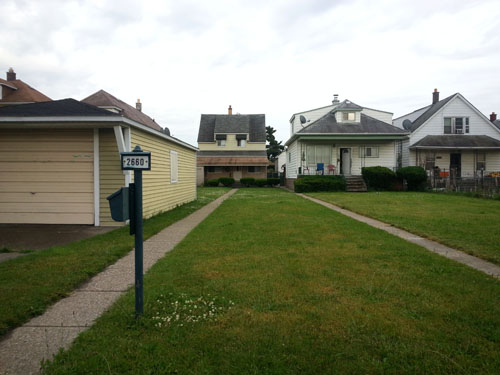 It's tough to imagine a ramble being "complete," since there is always more to explore, and more perspectives to bring to the same area. In the case of last week's Hamtramck Bloomsday ramble, so much was left unexamined that a little re-ramb is in order.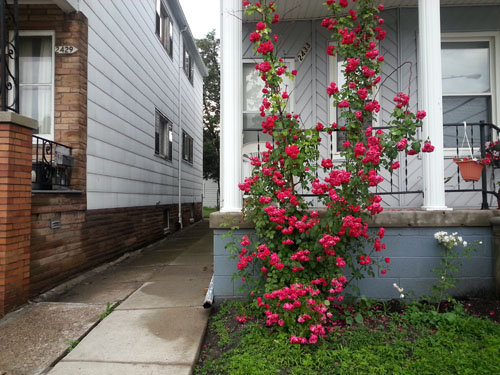 Join us this Sunday, June 22, for a solstice visit to Hamtramck's more populous parts. Meet at 5:00 at the Zen Center garden on Mitchell just south of Casmere. At the height of the season, we'll see what's growing where, from mulberries in the alleys to the impressive variety of roses, the carefully curated cactus gardens to the trellised gardens rarely seen elsewhere. Hamtramck City Council recently passed a noxious weed ordinance banning vegetable gardens from front yards. Although the mayor pledges to fight it, code violations are reportedly being collected by the Hamtramck Community Inititive and handed over to the police. What will this mean for residents and the landscape, especially gardeners on lots that are all front yard?
Miscellaneous goods:
Hamtramck Geography blog's look at the alleys
ModelD article from 2009 on Hamtramck's "barroom legacy"
Curbed's tour of Hamtramck's hidden bar houses — some good contentious comments on this one. (Also, Curbed Detroit has a 'ghost bars' section? Really?)