Walk around Detroit for five minutes and you're likely to run into some ketchup. If not a packet or to-go cup of it loitering on the sidewalk, imminently making trouble, the telltale red bursts and splats have left their mark. Detroiters sure love their ketchup, or hate it, judging by how much of it is cast to the ground. Occasionally a few packets of mustard will materialize, maybe some barbeque sauce. Less frequently there is hot sauce, mayonnaise, and rarely, relish. Why all the ketchup? What are people doing or not doing with this stuff? To answer these longstanding questions, I could think of no one more apt than the Singing Hot Dog Man himself, Charley Marcuse.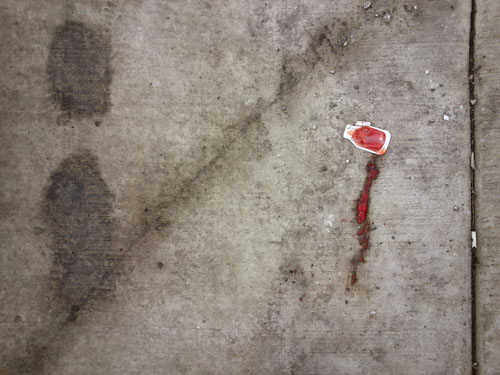 Marcuse, for those who live under a rock the shape of a baseball and lack TV reception, was for fifteen years Tiger Stadium's most infamous hot dog vendor. His first season in the business was the last year of games in the now nonexistent "old" Tiger Stadium. During this incredible tenure, Marcuse, like any intelligent person selling a thing, sought to diversify his product and service from the masses. Aside from providing excellent customer service, he set his hot dogs apart with an operatic chant of "HHHoooOOoooootttttttt DDoooOOoooogggsss!" He is also loved and hated for his provocative views on condiment use, stating often and very loudly, "There is no ketchup in baseball!" I struggle to not render that in all caps.
Having periodically encountered a mute, rasping Marcuse loading honey into his tea certain unfortunate mornings or late at night after games, it's apparent that the job involved a level of sacrifice for which few would give him credit. Selling hot dogs was truly a passion. After being fired amidst fierce supportive uproar last fall, this is the first year since 1999 that he wasn't at work in the stadium, making fans happy, if not healthy. Negotiations may still be under way to reinstate Marcuse as Detroit's best hot dog vendor (he's actually won awards), but no deal was struck before Opening Day yesterday. I caught up with the Singing Hot Dog Man after the game to get to the bottom of the battle between ketchup and mustard.
As any Detroiter who braved the streets, sidewalks, and parking lots yesterday can tell you, Tigers fans are not an easy crowd. Passed-out pedestrians got cozy on sidewalks while others screamed and cried gibberishly into their phones. They abandoned garbage using most of the prepositions in the English language. One pedestrian got hit by a car in Grand Circus Park, and traffic veered sloppily around the medical treatment area. Marcuse was a valuable walking companion, having seen it all in his decade and a half of service.
Several times during our walk, we were interrupted by the more alert fans scrambling to get a picture with the Singing Hot Dog Man. Others were not so courageous. "Look! It's him, the Singing Hot Dog Man! I saw him on TV!" someone said as we passed. "No, that's not him," their friend replied. Marcuse stopped to buy a newspaper, the last one in the box. He turned to the second page. "Sorry, Charley," read the headline. He wasn't kidding when he said he'd had a number of interviews already this season.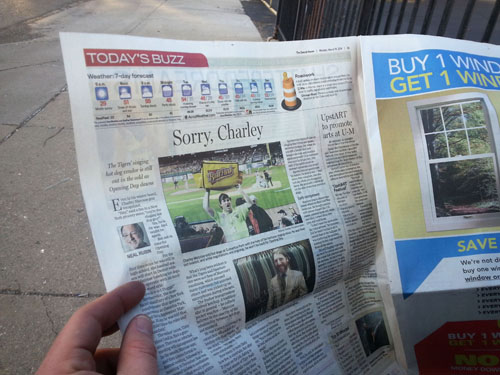 1999, Marcuse's first year in the business, was a transition year in stadium concessions. Management had just phased out the traditional condiment cup with wooden spreading stick that Marcuse remembers from ballgames of his childhood, replacing this old-fashioned, personalized dispensing with plastic packets that allowed the purchaser to fiddle with their own condiment placement. Not all fans were pleased with this tacky, fast-food arrangement, though. "I even got a plastic cup and straws for a group of four guys," he says, coming up with makeshift mustard spreaders for older fans looking for the authentic hot dog experience.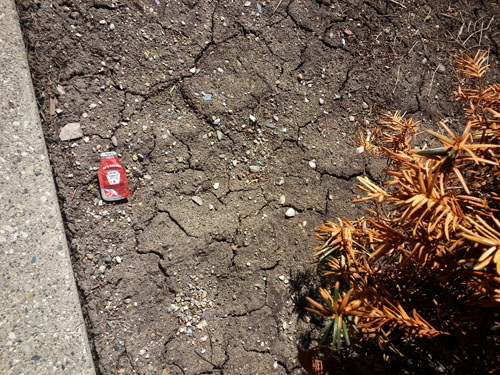 "I tried the packets, but nobody wants them. About two weeks into the season, I went out and bought some squeeze bottles." Marcuse appreciated the control afforded by the squeeze bottle, so he could put a perfect squiggle of mustard on each hot dog. If all this isn't a labor of love, what is? "If a little kid would ask for ketchup and no mustard, I'd get them to at least try some, put a few dots on the end."
While he's always enjoyed mustard, Marcuse was more lenient about condiments in the early years. "I used to do a traffic light," he says, "ketchup, mustard, and relish. They didn't have relish, but I went out and bought some before every game. If onions came in squeeze bottles, I'd have done a Detroit traffic light in winter," he chuckled to himself. Marcuse was the first vendor to offer relish. He says someone else tried later, wearing a pin that said, "Ask me, I've got relish," but, in another oppressive move for rules and standards, management eventually took note and curtailed it.
The turning point in the Singing Hot Dog Man's fight against the pasty tomato was in 2004, when he was barred from singing during games. After protracted contention, he was permitted to sing again, but only between innings. Working with these restrictions, he switched tactics, emphasizing mustard's superiority and haranguing people requesting a gloppy mess of condiments on their dog. "The news likes to say that I do this for the attention, to get on TV," he says, "but I really just want to do my job and sell hot dogs. And this sells."
Marcuse isn't alone in reviling ketchup, I found when wandering around Chicago last fall. Advertisements for what might have been a phone service insinuated that their competition was as ridiculous as putting ketchup on a hot dog. Even President Obama, like a true Chicagoan, has taken a stance in favor of Marcuse's ideals, saying simply, "You shouldn't put ketchup on your hot dog."
In 2008 Marcuse launched Charley's Ballpark Mustard, with the slogan, "It will make you sing!" In this household, no one has ever actually sung for mustard, but the complaints voiced after running out of a bottle of Marcuse's signature condiment were anything but musical. Even if he doesn't get his job back, he still plans to relaunch his mustard in the future.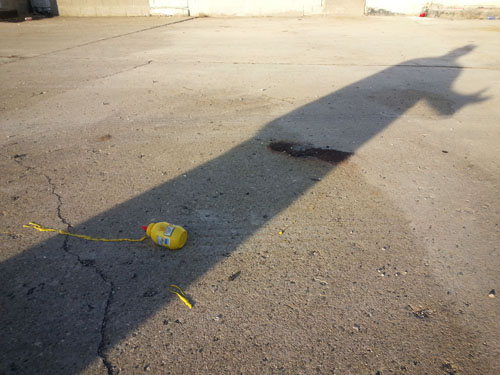 As we made our way uptown from the stadium, picking past heaps of tailgating garbage of all flavors, we saw plenty of destitute ketchup and mustard containers. Marcuse grumbled about the litter, pointing to a problem even bigger than ketchup versus mustard — that hardly anybody, residents and visitors alike, has enough respect for their environment. Looking around, claims that the suburbanites descending on the city are here to lavish money on it for a few hours seemed to me unsubstantiated. The sports-friendly bars in the area do, and definitely Mike Ilitch's parking lots, but judging by the trash, many fans stocked up on sundries at their average suburban grocery store before making the trip "down" to Detroit. One has to wonder how many will have the nerve even to stop for gas in the city limits.
The rest of the time, Marcuse said, it's not as if people are dropping these ketchup packets by accident. I'd always sort of imagined people sifting through their bags of take-out, utterly overwhelmed by the bulk of ketchup packets in the way of checking to see they'd been given the right sandwich. He didn't seem to share this vision. "They get thrown away because that's the nature of packets. You use it, and then who wants to put a sticky, residue-y, gross piece of garbage in their pocket?" This only really explains the half-consumed ones, not the full packets waiting to squelch underfoot, or why exactly there are so many to begin with. "Ketchup is traditional for the two most consumed fast food groups," Marcuse conceded, "burgers and fries." You can put it on lots of things, just not on hot dogs, nor on the ground.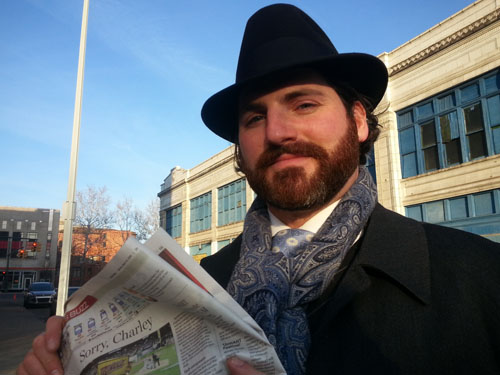 How did the Singing Hot Dog Man feel at the close of Opening Day? The Tigers won, but without him in the park, was this also a win for Big Ketchup? He laughed. With the nearby Leamington, Ontario Heinz factory reneging on its closure announcement from last year, it's hard to say how ketchup will prevail. On the streets of Detroit, I can only wish we had more guys like Charley. The world around here needs fewer plastic packets of ketchup and a lot more song.