As Earth Week's burst of cheerful ecofriendly activity winds down and families return to business as usual, refueling their SUVs, tossing the children's recycled-paper crafts into their recycling bins, and forgeting to water Arbor Day's newly planted trees, I'll probably just be taking another walk. Very slowly.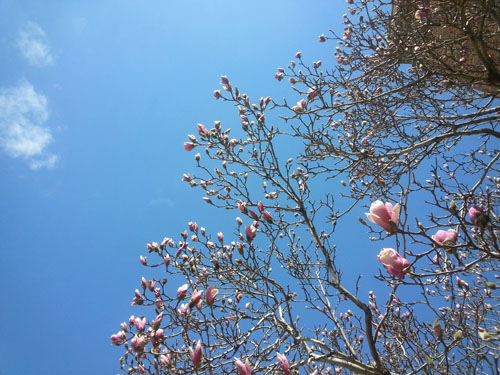 On Earth Day, I tested out another pair of new shoes, taking, with adequate trepidation, a stroll in a pair of Vapor Gloves by Merrell. Sunshine was abundant, the magnolias were blooming, distractions from painful feet were burgeoning lushly on all sides. It was the first time I've worn shoes in a few weeks since irritating a painful nerve over my heel bone, so careful movement was in order. The Vapor Gloves are soft and giving, with thin, highly flexible rubber soles and ethereal fabric uppers. This particular pair is an overwhelmingly neon green with various shades of bright aquas and cobalts. The swirling designs look kind of like cascading water, or like the planet Earth, if you forget the clouds and crayon it all in with bright clip-art colors.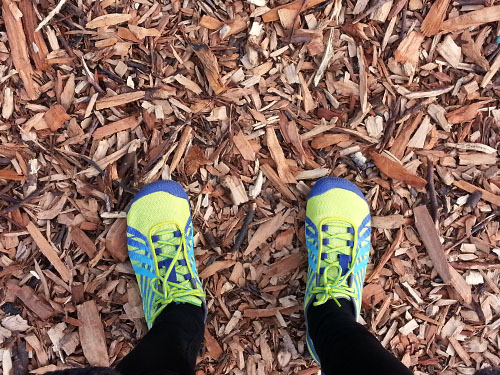 One of the many things I love about walking is the minimal equipment required. Anyone can do it, anywhere. No one needs high performance running shoes or trekking poles or tennis rackets or golf courses to experience the benefits of movement and the outdoors. Walking is about as egalitarian as fitness gets (competitive walking being a thing of the past, that is). It should be that simple.
The trouble started when I began looking for a new pair of shoes, a months-long and ongoing process that has been figuratively and literally torturous. A pair of new grey boots wouldn't break in and slipped unrepentantly over the back of my foot. Limping past Run Detroit one night, I figured I'd give it a try. Despite my reluctance to ever become a runner, maybe something with laces was in order. When I got around to visiting the store one afternoon, co-owner Justin took time out of a busy day to tell me, in an impressively unevangelical way, lots about running footwear and his inspiring daily commutes across the city. As he helped me into weird-fangled shoes by New Balance, Nike, and Altra, and watched me plod around on the sidewalk in front of the store, he also introduced me to what must be the most wonderful term in shoe technology: zero drop.
Zero drop means that there's no incline in the sole of the shoe that elevates the heel, a common feature of running shoes since manufacturers started making specialized footwear for the sport. This incline is something I've never become used to, having walked, run, or climbed in whatever regular sneakers I have at the time. Zero drop shoe soles range from well-padded to the more recognizable minimalist or barefoot shoes, encompassing Vibram's Five Finger oddity to Merrell's more socially-acceptable sporty line to Vivobarefoot's lovely casual shoes. Run Detroit doesn't sell barefoot shoes, reasoning that most overpronating people will injure themselves silly with them, but following Justin's generous assessment of my form, I was told that barefoot shoes should be no problem. After realizing that I could fold or roll up most of my favorite past walking shoes just like the fancy barefoot zero-drop shoes, they seemed like the next logical option.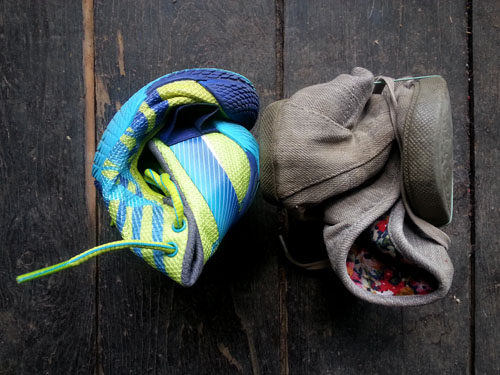 Merrell, actually a sort-of Michigan-based company, has a serious corner on the barefoot-whatever market, but the Vapor Glove seems to be their only real minimalist shoe in a line of supposed barefoot footwear. I spent a few days with the heftier Bare Access Arc 3 (what happened to the name for this product?), another zero-drop shoe with 8mm of "cushion." Cushion may not be the best word for whatever comprises the sole of these things. It's hard and incredibly rigid, hinging in a strange way under the ball of the foot that makes my toes go numb after a couple miles. The sole has a peculiar contour, dipping back under the heel so that the foot might unexpectedly rock backward across what feels like a sharp plane. There was nothing about these that evoked the purported stability or comfort of being barefoot.
The Bare Access Arc 3s have the wide toebox of most barefoot shoes, but run narrow through the arch and heel, which snugly hugged my foot. The uppers are no less severe than the sole, and despite a superb lacing job, the stiff material of the heel nagged at my foot so hard I felt an eruption of pain, as though my calcaneous had been ripped off. After removing the offending shoe in an alley downtown and actually barefooting it the rest of the way through the usual detritus, the pair was retired vindictively to their box.
I made it partway through Earth Week in the Vapor Gloves before I found myself listlessly staring through my car windshield at a store I needed to navigate. An ad airing on WDET informed me that April was Foot Health Awareness Month according to the useless American Podiatric Medical Association, whose website serves as a referral service for their members and otherwise just instructs readers to wear flip-flops only if they have adequate arch support. I limped across the parking lot, an area about as sad and un-rambling and un-Detroit as it gets. At least with the subtle reflective stripes on my Merrells I might be less likely to get mowed down by drivers as I inched around. Driving on the highway, the pain was unabating and ridiculous. I gingerly withdrew my left foot from the shoe.
The Vapor Gloves sit in their box, now on top of the box holding the Bare Access Arc 3s, which are still muddy from that final alley they traversed a month ago. "Let's Get Outside!" the boxes mockingly suggest. Even with rest, intermittent icing, and a wholehearted return to my non-APMA-approved flip-flops, I can't bend my feet, and a deep burning has overtaken my arches. Companies like Merrell and Vivobarefoot aren't kidding when they advise caution in acclimating to the new shoes, but, shockingly, even utmost caution in wearing won't save feet from shoes that just don't fit.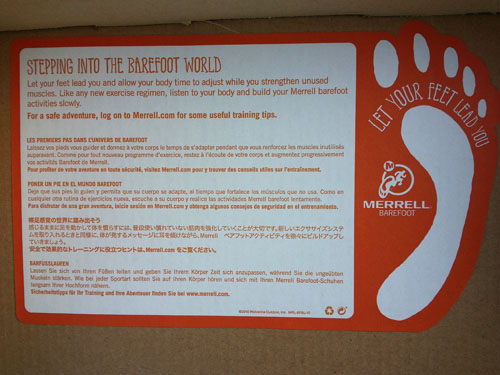 So here are four more pieces of plastic made somewhere in Asia that will end up in a landfill. I hardly feel like I've reduced my carbon footprint in honor of Earth Day this year, but at least Merrell, under their flimsy guise of sustainability and greenness donates returned and lightly used shoes to people in need of footwear both domestically and internationally, so I can be assured that my used shoes will soon be either for sale a a Goodwill shop somewhere, or freighted to whichever part of the world has the most convincing disaster relief fund set up. Additionally, the company touts themselves as one of the largest consumers of wind energy in Michigan, and have created a whole 3.5 miles of walking trails at their Rockford, MI headquarters, outfitted with birdhouses and pious goodwill.
Part of Earth Week is reconnecting people with the planet, which is just what barefoot shoe manufacturers claim to do. This is hardly a comfort, relying on global conglomerates to make me feel better about my connection with the earth by purchasing $100 worth of overdesigned, crummily-produced luxury items. It's a shame to capitalize on the simple act of walking on the ground. The illusion of barefootedness is fun, but it's hard to get out and do anything without shoes. As some call for the end of Earth Days, denouncing them as a counterproductive bandaid of a holiday standing in the way of action or conversation about real issues, it's all the more sad to spend the day walking in circles, preoccupied with these material goods.