When the tide of conventional holidays slogging by fails to inspire, or when they've passed unacknowledged, it's reassuring to have something else going on, something better. Late on Valentine's? Don't care for dead roses and gobs of cheap chocolate? Be all the more romantic celebrating Dragobete, while perhaps affecting a bright spot of good in the world.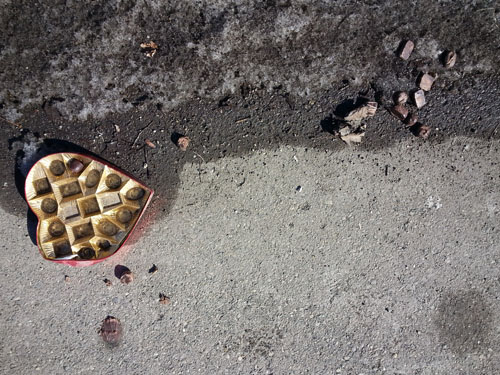 Dragobete, a Romanian Valentine's holiday taking place since ancient times antedating Romania itself, is celebrated on February 24, marking the beginning of spring. It's "the day the birds are betrothed," when they begin to seek mates and construct their nests. Humans are more or less expected to do the same.
As Wikipedia has it, "If the weather allows, girls and boys pick snowdrops or other early spring plants for the person they are courting. Maidens used to collect the snow that lay on the ground in many villages and then melt it, using the water in magic potions throughout the rest of the year. Those who take part in Dragobete customs are supposed to be protected from illness, especially fevers, for the rest of the year." There's also a bit about singing together after gathering the vernal flowers, but as much as singing relates to the well-being of birds, the karaoke can wait for another occasion.
It's well before the vernal equinox, and hardly a thing springlike outside, but all the more reason to collectively attempt to banish the midwinter and its blues. (It seems that ancient Romanians didn't expect spring to show up after Dragobete, either — another spring-bringing holiday associated with fertility, Mărțișor, is scheduled just a week later on March 1). On the Sunday we finally got around to belatedly showing the birds what our best wishes were made of, it was rainy and 46 degrees in Bucharest, Romania — certainly a higher proportion of spring to winter than the bitter 11 degrees we endured here.
We sensibly started with some warming tea. Kukicha, or twig tea, nested in one pot, and the green lushness of stinging nettles steeped fragrantly in another. Perched on the table next to bowls of trail mix fixings was birdseed toast accompanied by homemade mulberry preserves, mulberries being an apparent favorite of birds around here. Brownies made with buckwheat and sour cherry, the fruit harvested on walks around town, would have probably been enjoyed by birds as well. Mulberries seem like a greater hit with birds than the cherries, but the bias may come from the telltale seasonal splotches of bird poop inked dark by berries.
Tea is just ceremony; the most important part of the Dragobete celebration is offering the birds some avian housewarmers to ease early nesting dilemmas. We rounded up our bags of hair clippings from the winter's haircuts, or the morning's hairbrushing, in the case of one superb brushwad encased in a small paper bag, and some of us bravely snipped offerings on the spot, including one person who literally went under the knife to harvest a lock. We set off at dusk in the general direction of "more fields," which are less numerous nearby given recent fruitless destruction of bird habitats.
We trudged through the snow for a couple miles, eventually finding some nice fields skirting stands of promising scrubby little trees. The snow was etched with bird tracks unidentifiable to me, hopefully birds that enjoy nesting in our silky split ends. The wind funnelled the hair hither and thither. It was very quiet. We wondered where the birds were sleeping.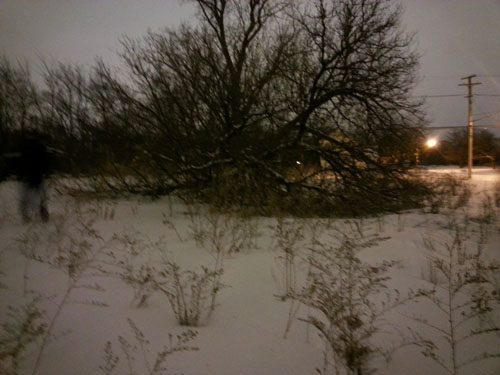 Of course we could have just thrown the hair out the window and been done with it, but over the years the holiday has evolved to incorporate a longer and longer walk — and what holiday, especially those celebrating the rhythms of nature, isn't better for that?
Much thanks to everyone who took part in making spring a more probably reality for our avian neighbors. Next year, bird house construction party? Field guide reading group?