Nothing particularly exciting happened to mark the flip of seasons last week. The equinox came and quietly went with a little fuss of wind. Days are 2 minutes and 53 seconds longer. Today it's been snowing. People groan and make small talk, wishing the weather would break. A breath of fresh air, a cool glass of water.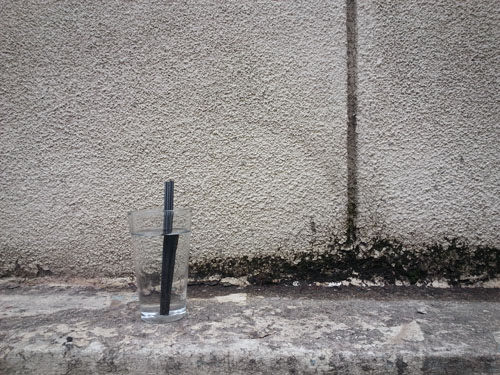 It seems that someone has decided it's time for spring cleaning anyway. For the past two weeks, toothbrushes have been materializing everywhere, in all conditions, minty fresh to old and scrubby. Is there a new dentist in town, handing out freebies? A clean-teeth evangelist making rounds?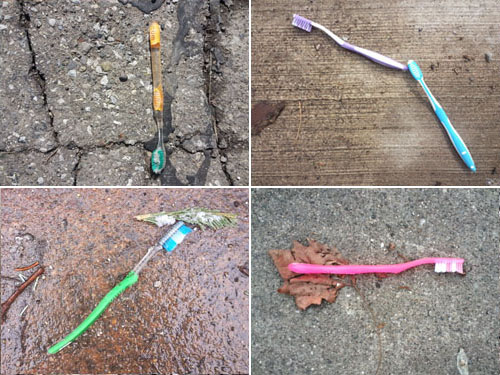 An odd flush of toothbrushes isn't the only anomaly to puzzle sidewalk users — repeated instances of a particular item will appear in the tight space of a week or two, then vanish. If not all over the city, this is at least the case in the small wedge I most often explore. At the end of February, citrus peels suddenly decorated the snowbanks. Why did pedestrians go so nuts about fruit in that moment? Warm enough for picnics already? Citrus on sale? (Citrus sale happens in January, too). A viral listicle enumerating the health benefits of oranges? What can account for this peculiarity? As mysteriously as they began, the appearances of bright mandarin rinds, half-eaten grapefruits, and smushed clementines ceased abruptly about two weeks later. I can't wait to see what the world comes up with for April Fool's next week.

In another type of spring cleaning, Detroiters shooed out the dweeby Nain Rouge again this weekend, hooting and hollering over the 0.9 mile trek through the Cass Corridor to banish the legendary demon. After standing around getting wasted outside Traffic Jam for an hour, the parade slowly threaded south, past new parking lots and imminently shuttering businesses. This obliviousness to history and environment seems to be part of the new tradition of the march. Allegedly a revival of the French colonists' annual rite to bring peace to their city by chasing the evil red man out, this story is really, as one of the parade organizers admitted to radio producer and journalist Mike Blank in 2011, a complete fabrication. It seems instead to be, if anything historic, an appropriation of Ottawa myth.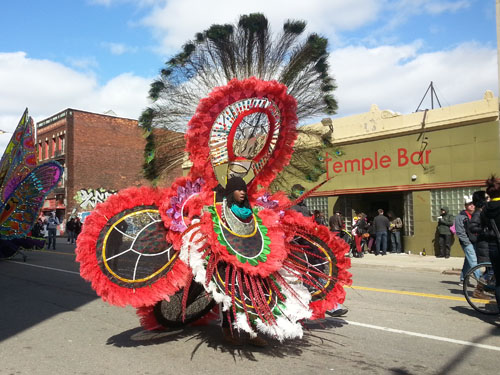 There was sun but it was chilly, and the march seemed much smaller than past years, though certainly no more shabby. Most people were in costume, except the uniformed cops benevolently corking sidestreets. Amid drag queens and hotdogs and people with grotesque masks there was a funeral procession for Capitol Park, some kind of perambulating coffin setup attended by a cluster of people in black clutching umbrellas. The whole effect was comic; despite the spangles, it was slightly reminiscent of goths in high school. Their presence is appreciated, but these are probably not the same kids who would offer to help the evictees move out of their apartments this week in the hideously rebranded Albert building.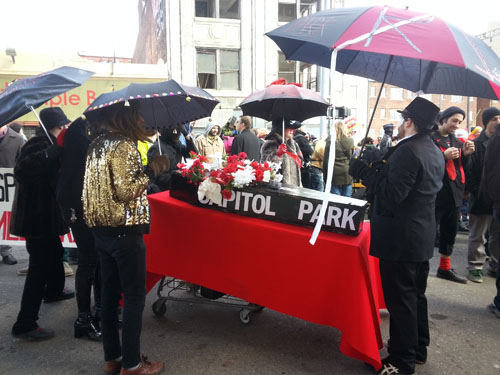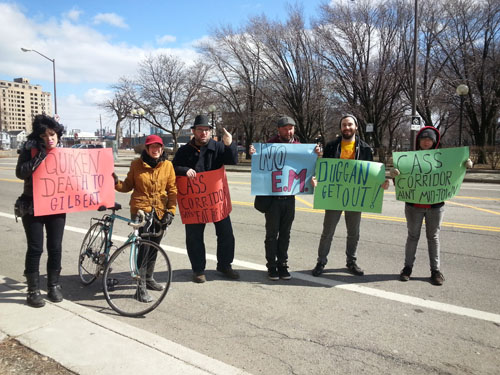 While there were important messages to be conveyed, few seemed to be in the mood to send or receive them. It was a Sunday, and these people are called 'revelers' taking part in a 'parade' for a reason. Inebriation and spirits were high, and questioning the debatable history or political correctness of the march was out of the question. One person told me that he cared a lot about our neighborhood but really just wanted to drink tequila with his soccer team. Whatever, I say, as long as it gets people walking. After a dull speech by the Nain, revelers quickly dispersed north toward the starting point or descended into the bowels of the Masonic Temple for the afterparty.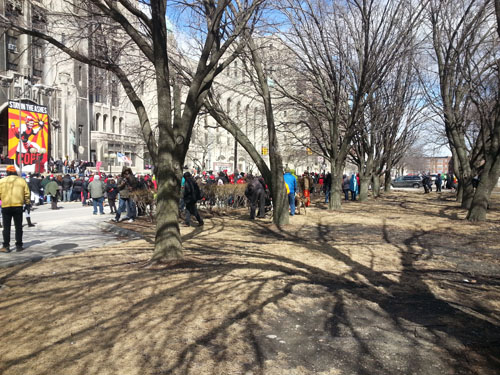 Unlike previous years, nobody even touched Cass Park, which isn't all bad — less spring cleanup. One resident muttered that having people in the park might not be the best idea anyway, given the creaky trees and downed branches. Did I want some firewood?, he asked. Mike Ilitch doesn't seem to out there making good on the pledge to make or keep the park a functional greenspace. With the ominous shifting of land and narrative, the march just wasn't as fun this time as previous years. Whether the march is what they say it is or not, Detroit needs fun, and it's hard to argue against such earnest attempts at it. But must fun come with a certain amnesia?
Today the ground and bushes on Canfield and on Cass are brightened by dyed feathers and snippets of ribbon. I imagine a lot of the unfamiliar faces I saw on Sunday back in their elsewhere, recollecting a boozy memory of the weekend gone by. The wind scrubs clean the shrubs bit by bit, Detroiters lose their toothbrushes, and flowers come up soft and unsoiled.