"Cheer up, honey, you'd look so pretty if you smiled," they'd say. "Why so serious? Put on a smile, baby!"
I started hearing these kinds of comments a few years ago, often from older men I see out around town. It was baffling. Had I suddenly lost it, been replaced overnight by a grouchy, snaggle-faced crone? I was smiling, I thought. Their comments felt preemptive. Should I try harder? I started scowling instead. I'd long considered it something of a job, to go around proudly walking and smiling and making days brighter, humming along the sidewalk like some audacious ambassador of happiness. Eventually it became apparent that other women were dealing with this peculiar phenomenon too, and were, unsurprisingly, weary of it.
Brooklyn oil painter, thinker, and muralist extraordinaire Tatyana Fazlalizadeh is one of those individuals. She got so sick of the "tyranny of the smile" and related harassment that she's talking back to not just one gentleman here or there, but to everybody, through a series of snappy street art pieces. Stop Telling Women to Smile is a potent antidote to these grating reproaches.
Fazlalizadeh has done a meticulous job of interviewing women about their experiences getting hollered at, drawing their portraits, and formulating a concise message beneath each portrait. She pastes these on blank walls and other surfaces of public domain as a way for women to speak back against harassment, without encountering further, potentially endangering, harassment.
Most of my initial experiences with harassment here were on a bike. Detroiters have built an increasingly lovely, inclusive biking culture in which I'm lucky to participate. But harassment often takes a different shape on foot than it does on a bike. It's obviously no breeze when cycling — come on guys, I barely heard you as I whizzed by. Isn't it obvious I'm way too fast to ride you like that? On foot, the interaction is prolonged. The comments stick around, get uncomfortable under the skin. When I ignore catcallers, they raise their voices and repeat, or snicker to their friends about what a haughty bitch I must be.
It's scarier as a pedestrian, too. When an interaction goes awry, sometimes there's a large angry man screaming at my back, lobbing damning, obscene phrases for the next block. Talking back forthrightly has shown little benefit — when asked, "Hey baby, how you doin'?," the vexed response of "DO I LOOK LIKE AN INFANT TO YOU?!" rarely goes over well. It's more infuriating when it's young men trying to catch my attention — shouldn't they know better? If we're from the same generation, don't they know what's offensive? Older men shouldn't be excused, but outrage is tempered by the belief that back in some day, these were actually compliments that indeed garnered a woman's smile. And chivalry is charming, right?
After a while countering harassment with art in her native Brooklyn, Fazlalizadeh took the project to other cities through a wildly successful Kickstarter campaign. Next week she'll be in LA, as per the STWTS tumblr, doing more portraits and wheatpasting events. Despite Detroit being on the original itinerary, a visit here seems to have fallen by the wayside, and my email inquiry went unanswered.
Detroit seems an ideal location to bring a project like this — a city full of art spaces, fierce frontier women, spare time, an unhealthy dose of crime, lots of abandoned walls — but not a whole lot of pedestrians. Maybe it's the case that Detroiters are so "dynamically creative," as reported a recent video harping on the irksome "strong woman" stereotype, that they don't need some New Yorker's art project. "I feel like everyone that I know that's a woman in Detroit, they do more than one thing creatively. Like, you can't be a woman who just paints. She has to paint, dance, teach yoga and, you know, she makes everything that she wears," one interviewee infuriatingly uptalked, as though running through a mandatory checklist for being female in Detroit. Surely these are the preoccupations of your other stereotypical Detroiter, struggling to balance time between job-searching and raising a family in a neighborhood where "nobody" lives anymore, an applicability far beyond the brave new women in the video moving "down to Detroit" to get a "harder edge," because it's cool and because they can.
I asked a thoughtful female friend, someone who more or less approximates this "strong woman" stereotype what she thought about starting up a wheatpasting contingent here. Prints of STWTS' images are kindly furnished to groups of five or more committed wheatpasters. Perhaps an organization like the Feminist Collective of Detroit would be interested, I suggested. "Maybe," she said unenthusiastically. "But I like smiling. I don't want to not smile. Isn't that message a little… extreme?"
And it is. Maybe the discord is simply semantic, or maybe we are more tenuously attached to the feminist cause than we thought. Stop Telling Women to Smile is a catchy phrase, but others are more apt. "What about 'women are not outside for your entertainment'?" I asked. "Isn't that brilliant?" "Sure," she replied uneasily. Is the forcefulness of the project's name necessary? Fazlalizadeh seems to think so, as do legions of women now padding around college campuses sporting t-shirts instructing their fellow students not to tell them to smile. Perhaps after interviewing women here, Fazlalizadeh's posters for this city would be different than the ones we've seen before. Detroit likes smiling; Detroiters are friendly folk.
This unsmiling emphasis on friendliness intertwines curiously with a few other public art projects visible on Detroit's streets, walls, and outdoor objects. The long-dormant project Cheer Up! Detroit encourages viewers to up their optimism with slogans like "Today will be the best day ever," "Keep those bad thoughts out of your head" and, succinctly, "Boom shaka laka."
Some of these are undeniably oriented toward the physical level, but turn a blind eye to gendered expectations, such as the one that reads, "Your moustache looks really lovely today," in looping, multicolored script overlooked by a bushy blonde moustache (Let's wonder for a moment, though — how many Detroiters actually have blonde moustaches?).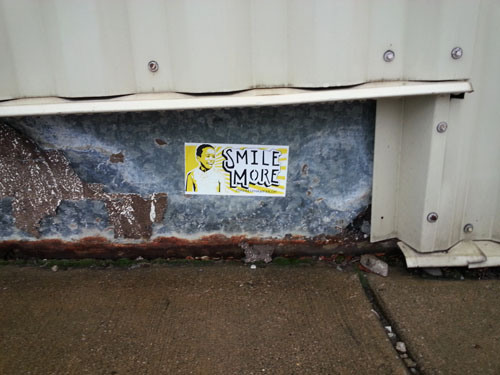 A more recent appearance of happiness propaganda is the "Smile More" sticker. The associated website, itmakesyouhappier.com educates visitors about the perils of stress, and recommends smiling as a countermeasure. Stress, it says, causes angry outbursts, overeating, social withdrawal, headaches, and heart attacks — smiling lowers blood pressure, heart rate, and promotes healthy breathing. Also found to be beneficial in combatting stress are reading, creating, exercise, hugs, prayer, and being helpful.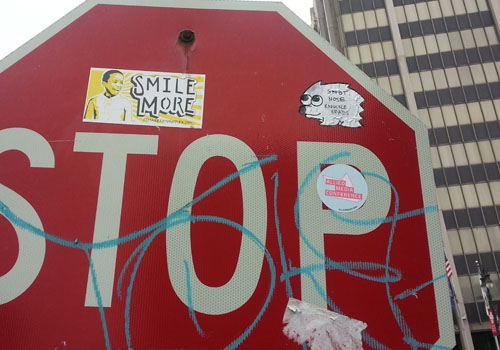 While their simplistic estimation of how even phony smiles make the brain a better place may miss some of the subtleties that work like Fazlalizadeh's aims to address, it's hard to argue that more people smiling is a harmful thing. So, if no one is to ask or tell anyone else to smile with impunity, how are we to compose our faces? Are we supposed to stop stopping smiling, or stop smiling? Although it's a funny injustice to pick at, it's yet another insidious double standard to say that men must be polite-faced to women, who are entitled to sail by with Bitchy Resting Faces unperturbed.
Yes, a face is a personal thing, but you're in public. Do we want Detroit to be another cold city where no one will make eye contact or ask how your day is, whether or not they fancy getting in your pants? As the city expands, intermixing new perspectives and habits into the existing culture, do we have to forfeit the high level of friendliness and courtesy that has made our community feel as tight-knit as a small town? Smile, humans of Detroit. What do you have to lose?
Incidentally, today is International Women's Day. Happy that! Here is one more cause for a smile. It's embarrassing to chime in with what may seem to be mixed praises of women and their doubtless achievements, but affirming above all our shared humanity is to me in keeping with the UN's theme for this year's celebration, "Equality for women is progress for all."