Announcement: Marche du Nain Rouge is tomorrow! As if you needed a reminder. The walk starts at 1 at Traffic Jam in "everyone's Midtown Detroit" and goes to Cass Park, Mike Ilitch's Midtown Detroit.
For those who don't believe the hype, this means that the Anti-Funeral Procession for the Cass Corridor is happening from 2-6.
Also, please stop calling it the 'Marche de le Nain Rouge.' That's just not right.
Browsing the library shelves, I came across an enticing new acquisition, A Field Guide to American Houses: The Definitive Guide to Identifying and Understanding America's Domestic Architecture. Originally published in 1984 by Virginia Savage McAlester, the second edition, released last December, offers considerable updates, such as how to "read" a neighborhood, and information on homes built after 1940, which constitute an entire 80% of American dwellings.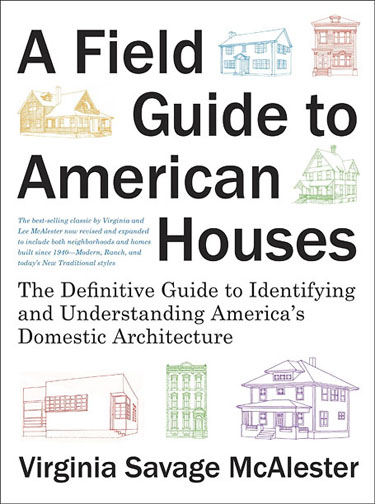 The immense hardcover volume, the size of an obnoxious biology textbook, weighs quite a bit more than could be easily packed to take into the muddy field or hefted open to consult while perched on a slippery snowbank — a better title might be An Encyclopedia of American Houses. As intended, it's a trusty desk reference companion. The preface suggests three ways of using the book: flip through it to find similar photos, use the sprightly pictorial key to identify main features, or read about the historical precedents to the main American house styles. Taking this information out into the field, "style identification can become almost automatic," and the book waits at home to aid in sorting out subtypes.
Whichever way you approach it, at least a little of the information seeps in almost instantly, broadening perspective of the built environment in a way that a tree guide, for example, can seldom do for the natural environment. To an untrained eye, the differences in siding on houses are easier to discern than the subtleties of bark patterns. It's been a great game to wander through neighborhoods, peering at porches and chimneys and cataloging types of dormers or "other roof elaborations," piecing together more of Detroit's abundant history.
From Native American tepees and wigwams to the McMansion (McAlester favors the kinder term 'millennium mansion'), the coverage is inexhaustible. When you think you've come to the end of the book, a short appendix dealing with green and alternative construction appears, accompanied by photos of geodesic domes. This astute comprehensiveness was a long time coming. As the New York Times relates, McAlester had originally assembled "some 100,000 house photos, many from the Library of Congress, and pinned them on a giant corkboard. Picture the tormented detective in a thriller, rearranging mug shots, with bits of red string."
Many of the houses I've recently wandered past are Queen Anne or Stick, some Shingle, Second Empire, Italianate, Richardsonian Romanesque — in short, lots of Victorian homes, the entire chapter gorgeously represented in a few mile radius. What's fascinating is how old some of these stylistic impulses are. In an age of new construction techniques like balloon framing and the beginnings of the design industry, Victorian homes were still being modelled, albeit loosely, on Medieval prototypes — the same thatch-roofed stuff people had been building from the 6th through 15th centuries. Even as MIT established the first American architecture program in 1865, the dominant styles recalled Medieval times, with or without various Classical elements appended to them. McAlester coordinates the solidly useful information in the field guide with well-placed tidbits of architectural history. Until 1840, she notes, before the boom of competing architectural styles and schools producing architects to advance them, there was only one formally-trained architect in the United States.
Detroit is as diverse as you'd expect for such a large city, and exploring neighborhoods with both newer and older wonders of residential architecture is something to look forward to as the weather warms and forgotten sidewalks are unearthed. Where are all the Tudors, the boring Neoclassicals and Colonial Revivals, where are my secret favorites, the smartly-tiled Spanish Revivals?
It did make me curious about what is arguably the oldest house in Detroit, the Charles Trowbridge house on Jefferson. The house is easy to miss, so easy I've walked past it dozens of times without noticing. This has probably happened to millions of people since it was built in 1826. Coming north off the river, I walked past it again, and kept going. There is no green historical marker in front of the unassuming Greek Revival brick structure, painted white with a mishmosh of Victorian elements tacked on at some point. It's not very interesting to look at, outdone by the showier adjacent residences-turned-offices, one of which has been attached to it by an enclosed walkway.
If I get around to reading the field guide cover-to-cover, it will take some time, but it's wonderful to savor in small portions, and a sensible purchase for that privilege. It's also done the favor of keeping me occupied during the obligatory daily segments of the thousand miles. If gold were as helpful in understanding what goes on with our building habits, this book would definitely be worth its weight in it.
The fact motivating the creation of this field guide, that old homes hold a certain value in our culture and their ownership conveys some level of prestige, is by no means universal. In other countries, such as Japan, no such field guide would be written. As Freakonomics reports, the average lifespan of a house before its value dwindles to nothing is just 30 years. Some studies even pin this number as low as 15 years. Half of all houses are demolished within 38 years of construction. This, from a country that lent the rest of the world aesthetics like wabi-sabi, encouraging us to celebrate the small imperfections of our homes, inside and out. Here, older homes don't tend to depreciate like used cars, and a hundred years will pass before the average home is demolished. One can begin to understand this, in a location that sees 20% of the world's high-magnitude earthquakes and has a recent history of homes obliterated by bombings, leading to crummily-constructed houses popping up to quickly accommodate the million people left homeless, but the obvious, like McAlester illustrates in her field guide, is never the whole story.
It's hard to say which is curiouser, our paradoxical penchant for filling our old homes with sleek, cheap Ikea furniture, or the Japanese drive to knock everything down and design exactly the house that is desired by the occupant. In a culture of ancient temples, recycling, and traditional values like mottainai, or avoiding wastefulness, the Japanese approach to housing comes as kind of a shock. To simultaneously value newness as "spiritually clean and pure," except perhaps in the case of a fresh pair of vending machine underpants, is bizarre.
Maybe the more profound way to accept transience is to demolish everything that isn't a mossy Buddhist shrine — but I hope, stuck as we are on hanging onto the past, it doesn't come to this in America. The ability to see the proverbial hand of time moving across a landscape is not a pleasure I'll easily give up, a reluctance likewise felt, no doubt, when I have to walk this field guide back to the library.