On yet another snowy day, with a foot injured from trampling January's crusty ice clods, sitting inside has never seemed finer — or, at least, less dismal. I've been spending time with Italo Calvino, one of the few writers whose immaculate insight locates precisely what's at the center of a landscape, urban or rural, and its people's interaction with it. His collection of stories Invisible Cities is a classic that holds up to as many instances of reading as the paper will permit. In contrast with recent works published on the subject of looking, Calvino's wit, tenderness, and verbal majesty never fail to surprise, to transport the reader into a more imaginative frame of mind.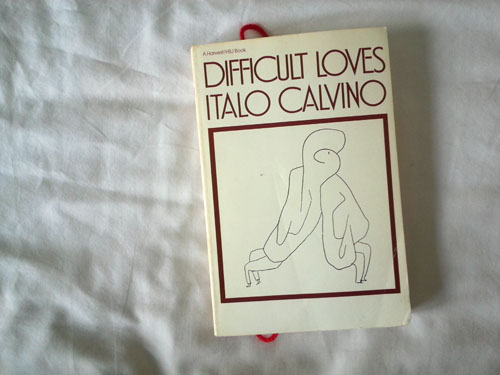 In "Stories of Love and Loneliness," a collection of eight short works written in the 1950s and published in English in the volume Difficult Loves, Calvino relates the awkward adventures of some common archetypes — the poet, soldier, traveller, clerk, among others. Here is an excerpt from "The Adventure of a Nearsighted Man."
He caught on, finally. The fact was that he was near-sighted. The oculist prescribed eyeglasses for him. After that moment his life changed, became a hundred times richer in interest than before.
Just slipping on the glasses was, every time, a thrill for him. He might be, for instance, at a tram stop, and he would be overcome by sadness because everything, people and objects around him, was so vague, banal, worn from being as it was; and him there, groping in the midst of a flabby world of nearly decayed forms and colors. He would put on his glasses to read the number of the arriving tram, and all would change: the most ordinary things, even lampposts, were etched with countless tiny details, with sharp lines, and the faces, the faces of strangers, each filled up with little marks, dots of beard, pimples, nuances of expression that there had been no hint of before; and he could understand what material clothes were made of, could guess the weave, could spot the fraying at the hem. Looking became an amusement, a spectacle; not looking at this thing or that — just looking. And so Amilcare Carruga forgot to note the tram number, missed one car after another or else climbed onto the wrong one. He saw such a quantity of things that it was as if he no longer saw anything. Little by little, he had to become accustomed, learn all over again from the beginning what was pointless to look at and what was necessary.
Yes, it's all that lovely, and not very difficult. Read the rest of the story to find out what happens to Amilcare Carruga on his walks around town. Available at your local library.