There's something eternally captivating about travel narratives, even the most mundane ones that happen close to home. It's also the time of year — especially this year — when it's tough to do much other than envision equatorial adventures through the lines of frost on the windows. Last spring, a new book titled On Looking: Eleven Walks with Expert Eyes by Alexandra Horowitz seemed to appear everywhere, basking in positive media mentions. I sought it out, walking to the library time after time only to find it out on loan. Imagining that the book was so hotly in demand that the library couldn't keep it on the shelf for as long as it took me to get there after verifying its presence in the catalog, my fervor increased.
After about six months, I finally had the book. I sat down to read and was confronted by something less "breathlessly wonderful" as Maria Popova gushed on the always-fascinating brainpickings.org, or as "brilliant" as the New York Society Library would have me believe. "It is undoubtedly one of the most stimulating books of the year, if not the decade, and the most enchanting thing I've read in ages," promised Popova, who went on to highlight perhaps every quotable passage in the entire book. Contrary to expectations, after a chapter or two, I realized that, despite the low reading level required by Horowitz's halting prose, the reason this thing was never at the library was because nobody could actually finish reading it.
It took a truly humiliating number of renewals and late fines, but I made it through, and unlike a long walk, I'm no better for it. Sometimes I laughed so much I cried, not because the book is actually humorous, but because Horowitz's struggles are so sad. The book is about attention, about taking time to notice, as Horowitz quotes Sir Arthur Conan Doyle, "the observation of trifles."
Instead she practically jogs through the book, breathless at times, stumbling over both words and ideas. It's one thing for elegant phrasing to elude someone who is a cognitive scientist by trade; that's easily forgivable in an age when many of our books are written by politicians and basketball players and chefs who haven't yet quit their day job to pursue a creative writing MFA. Popova's review boasted that as "[f]irst, she takes a walk all by herself, trying to note everything observable, and we quickly realize that besides her deliciously ravenous intellectual curiosity, Horowitz is a rare magician with language," but the evidence is scant.
It's a lovely concept — who am I to say no to eleven walks with nice people who can narrate to you a world visible only to them? It's magic. Horowitz, inspired and mystified by walks with her former mutt, recruited an impressive range of guides for the natural and unnatural microcosms of the Manhattan blocks she calls home. She walks with her nineteen-month-old son, her dog, a geologist, an entomologist, a senior scientist in the wildlife division of the Humane Society, a doctor and medicine professor, an urban planner, a typographer, an illustrator, a sound designer, a blind person, and, of course, herself.
Her fourth walk, and one of the most depressing, is with venerable illustrator Maira Kalman, beloved advocate of the whole walking-and-noticing thing. Horowitz quotes Kalman's maxim, "If you are ever bored or blue, stand on the street corner for half an hour." After thirty-five minutes of this (Horowitz seems always to be counting), she cheerily reports, "Not only was any glimmer of boredom vanquished, but I'll be darned if I didn't grow less azure by the second," with the trite cheesiness that's by now her unfortunate trademark. Boredom glimmers? Who knew.
It's hard not to cringe as she dumbly tags along with Kalman, seeming perplexed at every turn how this could be taking so long. When she describes Kalman's walking pace as "loitering," it just feels disrespectful. It's hard to doubt that, as originator of this concept, she truly wants to be there; nonetheless, most of the walks in the book feel rushed, even when she is busy verbalizing reluctance to part with her walking companions. Maybe she is cold, or has to pee.
She does fulfill the objective of expanding her range of noticeable things, even if among those is the humdrum onward march of the hours. "This is not to say that everyone I walked with saw everything. Moments into my walk with one of the world's foremost researchers on the science of paying attention, she stepped right over sixty dollars lying in her path on the street. She simply did not notice it," she writes incredulously.
Horowitz also assembles quite a parade of interesting tidbits over the course of the book. She seems to shy away from being present during the walks, groping to accomplish this with strategies like counting down minutes, spastically cataloging things of questionable relevance, or rambling tangentially about dogs or monkeys. Delving into fact, and better yet, scientific studies, is where she is at her most lucid. Her sigh of relief whenever she digs into this comfortable territory is so palpable it nearly blows the page out of your hand. Aside from most musings quickly devolving into a debriefing on some study about animals (clearly her work teaching psychology, animal behavior, and canine cognition, according to the author bio, is never far from her heart), the collage of facts is not totally unwelcome. It provides a respite from the onslaught of her poorly-wrought observations, like ducking behind a building on a windy day. Lest you believe that all of our actions come down to wiring shared with apes and canines, she writes, "Notably, not all of our crowd behavior mirrors the animal swarms," but only in that we're not also cannibalistic, like desert locusts. As Horowitz listens to bird calls, she suddenly conjures up a whale. Since this is not an animal usually found either in the lab or on the streets of Manhattan, she provides a lonely illustration.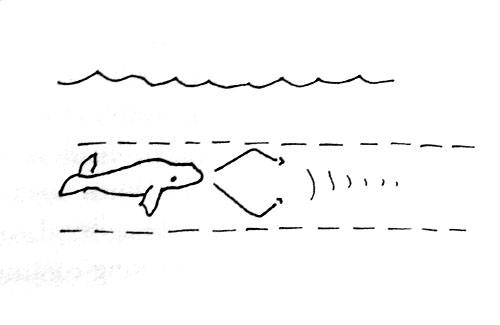 Oftentimes bewildering, at her best Horowitz is giggle-inducing. "As the taxi passes, a stenciled POST NO BILLS is discernible on the scaffolding hulking over the sidewalk. Words are the ample cleavage of the urban environment: impossible not to look at." Funny? Kind of, but Horowitz makes so many gauche blunders that one must wonder whether the joke is on her. Another highlight is when she lumpily wonders at how "in this part of the city the humanity is remarkably peaceable and hushed. I worried that we would only hear the rustle of expensive silk undergarments from this neighborhood."
This hint of linguistic dexterity is a part-time phenomenon. When the geologist tells her about the precise type of schist making up a wall in Central Park, she says, "Yikes! Here I must pause, anticipating a collective drop in reader blood pressure. One risks, in writing about geology, numbing one's readership with the terminology. Schist, gneiss, phyllite; metamorphic, sedimentary, siliciclastic, schistosity. It can be dizzying. I sympathize. I hear "Paleozoic" and I nearly drop right into a deep sleep." Twelve pages later, we're supposed to believe this is the same walker who, with her husband, owns literally "hundreds of dictionaries, whose main role in our lives are first, to wait uncomplaining until they are thumbed through by us, and second, to then offer up such masterpieces of grace and charm as omphalos, amanuensis, and picklesome." Horowitz's efforts to have it both ways are discordant, making her an unreliable narrator and guide.
It's hard to be so disappointed by this book when one gets the sense that Horowitz, ever-toying with her own weird-fangled brand of whimsy, is a noble ally. In a particularly relatable moment, she confides that "[s]ome years ago I began noticing, then collecting, stray single gloves or mittens lying forlornly on the ground, displaced from the hands they had been warming. These melancholy creatures, always frozen in an awkward or pleading pose, indicated recent passage of someone busily doing something requiring a free hand, I found more right gloves than left, probably a reflection of the overwhelming right-handedness of people, and the inclination to remove a right glove to do something requiring dexterity: take out one's wallet, punch in a phone number, retie a shoe." While I can't say I agree with her assessment, it's a nice notion that someone else is monitoring these apparitions.
As Horowitz takes a loop around the block to determine what's shifted in her awareness, she is overcome by a monstrous zeal. Everything has changed. Suddenly there are letters and rocks and triangles and noises and plants everywhere. She says, "It was a new street. My eye caught sight of something a few yards down the street. I nearly leapt toward it, rudely lunging right in front of someone happening to walk by and not anticipating nearly-leapers. The object of my lungely leaping was a gaping sidewalk crack, unfilled with mortar. I kneeled and peered in. Inside lived dozens of tiny, hopeful two-leafed plants pushing up toward the light. None bore the mark of an insect."
Horowitz demonstrates a very interesting tactic to spice up other people's walks, without all the bothersome invitations and consent — just jump in front of them and kneel down on the ground. They'll be sure to notice lots of new things as they trip over you and you both end up in a woeful tangle on the sidewalk. The most important lesson for the reader is a simple one — don't walk this way.
She concludes: "The result of these walks on my head is tangible: they refined what I can see. My mind can prepare my eyes to spontaneously find a leaf gall, to hear an air conditioner's hum, to smell the sickly sweet smell of garbage on a city street (or the fragrance of my own soap on my face, instead)." I hope she enjoyed all those walks on her head. My mind can prepare my eyes to not read this book again.