As the snowiest January on record drew to a bitter end and the news reported that even the middle class is now being priced out of apartments in highly desirable areas such as downtown and Midtown, construction crews broke ground just west of the M-10 the Lodge expressway in Woodbridge Farm, a historic neighborhood long feeling the push, if not the shove, of gentrification, or whatever you want to call it.
Woodbridge Farm, a thin ribbon of land designated historic by the city and the National Register of Historic Places, spans Trumbull and Lincoln from Canfield to Grand River. It is not included in the larger Woodbridge historic neighborhood designation, a boundary some residents think may benefit from expansion. With only two houses standing on its northernmost block, the surrounding empty lots have no grounds for historic designation, and in come the developers.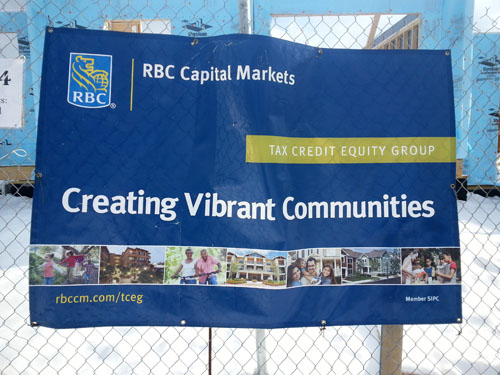 This was a field I'd walked through many times before. Residents were shocked, outraged at the sudden appearance of workers cutting down tall, old trees in the park-like greenspace where many brought their dogs to romp. As bulldozers arrived, calls to the historic commission yielded nothing to help stop the destruction. The lots are rightly owned by Scripps Park Associates, the firm behind Woodbridge Estates, an enclave of generic, vinyl-sided new houses and townhomes situated between the freeway and Woodbridge Farm's eastern boundary. Woodbridge Estates will be filling the block with more shoddy rent-to-own duplexes. Residents complain that construction within the original footprint of the development, aptly nicknamed Vinyl Village, has gone too slowly, leaving foundations capped for years. Why uproot more ground elsewhere when a reasonable density there hasn't yet been achieved? The expiration of building permits knows no common sense.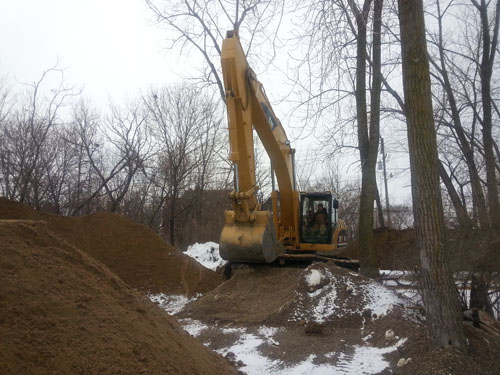 So it goes in the city. One thing gets knocked down to make room for another. Soon enough few will remember the fields that were there, just as I don't remember the apartment buildings that once stood, fairly recently, on the same lot. Change is good, or so implies the mantra many Detroiters hear and repeat: we need neighbors. But do we need the neighbors to live in depressing, identical drab beige structures?
The staff in Woodbridge Estates' rental office was unaware that the lots newly under development were in their jurisdiction until a grounds maintenance person wandered in while they were hemming and hawing. Overhearing our conversation, he exclaimed, "Yeah, I have to remove snow all the way up there now!" and directed me to the construction trailer, the nucleus of project operations. The trailer is warm and sunny, full of drawings and xerox machines and cold blueprints meting out what residents had thought was common ground. Nobody's actually bought anything since 2007, the project manager told me on my third and most successful visit (on my second attempt, all but one worker had left shortly past noon to attend a retirement party).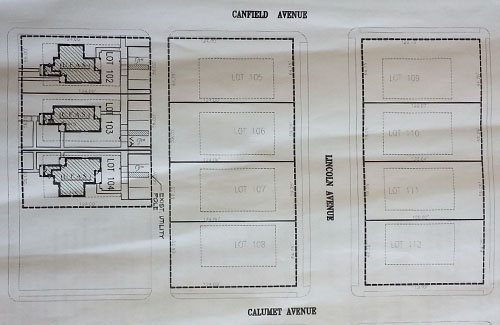 The project manager, an affable guy named Howard who lives in the cushy northwestern suburb of West Bloomfield, took time to talk with me about the duplexes, seeming genuinely curious that neighbors were concerned over the appearance of the planned buildings. When I asked about whether care had been taken to mesh the appearance of new housing with the existing neighborhood character, he said that they should match better than the ones standing in Woodbridge Estates, but that he didn't have final renderings yet. In this case, he told me, the developer had asked the architect to drive through and pick out some paint colors that would be a better fit than their usual dirt-hued "neutral" palette. How strange, to begin construction when the people in charge of the project don't even know how the buildings will look.
Had he seen much of Woodbridge himself?, I inquired. He seemed surprised. "I've driven through it a couple of times, yeah." Howard was aware of the two "tenements" on the block, a baffling word choice for the two historic homes, among others, that his company is working to emulate visually. Whenever I walk by at lunchtime, the street is lined with the shiny trucks of construction personnel, idling, each guy eating his lunch in solitude as few yards as possible from the jobsite. I wonder if they ever explore the neighborhood, wander through these fields they're digging up, or if they return promptly to their vinyl-sided paradise, leaving the "tenements" out of sight and mind.
Walking to Woodbridge from the venerable Cass Cafe during yet another snowstorm, I said to a friend, "Hey, we're at Canfield already!" "You mean, more like Can't-field these days," he said as we looked at the stark structures newly rising from pits hollowed in the ground.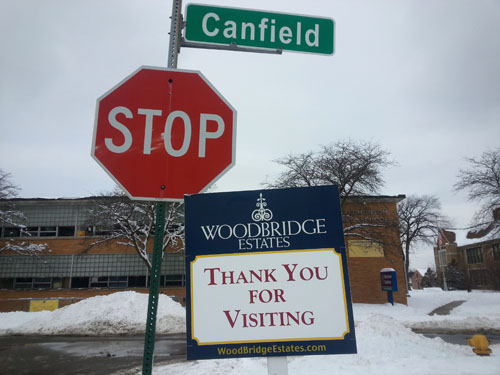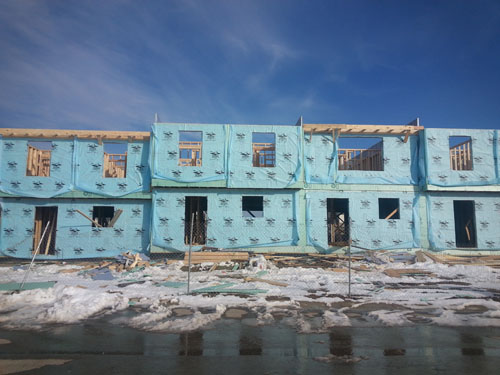 Perhaps it is just the way things will go, that all neighborhoods will have their own vinyl village, like elegant Brush Park with its unsightly rash of condos at the southern end. "With its suburban appearance and barren surroundings, the Woodward Place condo development isn't exactly the pinnacle of the Detroit rental scene. Near so much architectural glory, many overlook the units in favor of something more loft-like," says Curbed about one of the first and most successful developments near downtown. Even MOCAD is absurdly accompanied by its own vinyl ghost, the unfortunate Mike Kelley replica ranch, little more than a mean jab at Detroit's citizens and circumstances veiled as a really exclusive library. To someone, this type of development must be voluntary, even desirable. Who?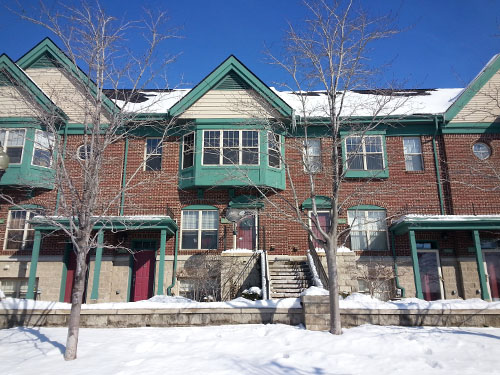 Watching the greying heads of the supervisors at the Woodbridge Estates jobsite, it doesn't seem like a far stretch to speculate that these are the structures admired by an older generation, the people who fled the city and built burbs full of McMansions. As renovating old commercial spaces into airy lofts and rehabbing historic residences to their former grandeur has smitten my generation, it's curious that buildings like these continue to go up. Will future generations see these repetitive, uninspired houses as something to cherish and protect, the way we feel about older, more architecturally-rich ones? Is it all a matter of perspective, or worse, fashion?
It just seems that we can do so much better than this. Why can't more infill housing look like Briggs, where houses built in this century have, if not some of their own charm, then a neighborly benevolence toward the older structures with which they share blocks? They can. But with the plans already in place, what can be done about these lots? What can be done to protect other blocks in our neighborhoods from the dubiously-motivated interests of wealthy men from the burbs?
For the past month, the construction equipment has been parked in the middle of the field that once was, abjectly motionless, surrounded by mounds of dirt. On the remaining fringe of land, people still come to play fetch with their dogs. It's hard to complain; Detroit certainly suffers from no dearth of fields yet. It's ironic that the neighborhoods regarded as disadvantaged by most other measures become the envy of those receiving such well-monied attentions. When this field is gone, where will people take their dogs to play? Maybe when Dan Gilbert is done installing the new art district, he'll put in a fancy dog park somewhere, and we can all just drive over there, because that's how to create a vibrant community. Tough luck to everyone else who simply wanted a piece of greenspace in their neighborhood, leaves to crunch through in the fall, and in all seasons a rare local breath of fresh air.
UPDATE: 03.08.14
This week, dump trucks have been arriving laden with heap after heap of dirt and gravel, the excavated foundations of housing elsewhere all over lots not slated to be developed until well into the future. Trees wait waist-deep in mud. It seems torturous. And this is a good use of greenspace, this hotbed of unfulfilled dreams.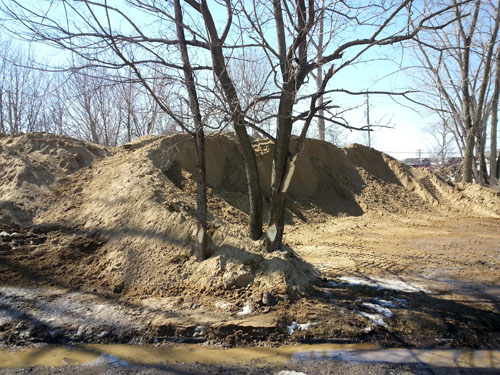 UPDATE: 03.11.14
Whew! Our friendly development cheerleaders have made it to the game. Curbed reports today on a new housing slated to break ground somewhere in "Southwest Midtown" by none other than the Slavik Management, part of the team of hole-diggers disturbing Woodbridge Farm with their foundation voids and willy-nilly accumulations. Curbed speculates that the new arm of Vinyl Village will go in at the sadly defunct Wigle Recreation Center on the east side of the Lodge, conveniently connected to Vinyl Village proper by the Selden pedestrian bridge. If Curbed is correct, this is devastating news not only for greenspace enthusiasts making the trek from Woodbridge to Midtown but also the teams who practice sports there all summer.
Far worse yet, Curbed references a Model D article that reads more like a press release happily penned by Slavik Development. Model D lays out the geography of Woodbridge Estates, then emits the following burp of nonsense:
"Woodbridge Farm, another Slavik development, runs directly adjacent to the west of Woodbridge Estates. Eight single-family house lots remain in that development. Gold says that these homes are being designed with the surrounding historic architecture in mind."
Woodbridge Farm, a Slavik Development? A rambler comments, setting the story straight: "woodbridge farm is a neighborhood of 19th century Victorian homes that already exists. the prefab mess that's currently going up on Trumbull is not woodbridge farm, it's just more vinyl village. the plans look identical to the cookie-cutter houses where the streets have weird names east of Gibson."
UPDATE 03.17.14:
Please see the comments for important notes regarding the boundaries of these historic districts and encroaching developments.
Construction fence unrolled to the brink of the sidewalk, this is the last time someone will stand on this ground, until we tear these down and do it all over again.