There was nothing unusual afoot when the Quicken security car pulled up in front of Urban Bean Company, the eye-poppingly cheerful orange coffeeshop at the corner of Griswold and Grand River that is a favorite downtown rambling destination since its reopening last year. In addition to Dan Gilbert's cameras, security patrols are a common sight during the workweek downtown these days. Rarely a dull moment around here, where Josh Greenwood, proprietor of Urban Bean Co. and longtime resident of Capitol Park, has seen it all, as far as I can tell. On the sunny afternoon I stopped in for coffee, a shiny black unmarked Magnum pulled up across the street, facing the wrong way on Grand River. Two plainclothes cops emerged outside a building recently acquired, Josh says, by Chinese investors. "They're up to something big today," Josh said, sounding kind of excited, and pulled out his phone to text with the cop. The car was soon joined by a sheriff's SUV, followed by a Detroit Police cruiser.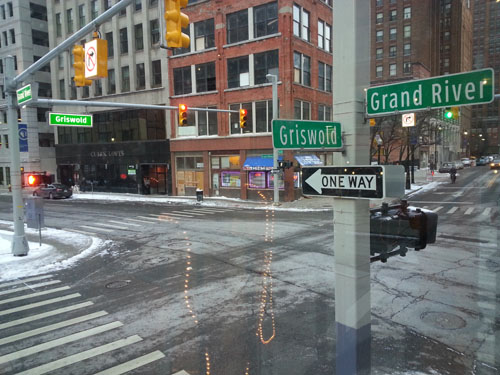 While, quaintly enough, these amicable interactions with authority seem to be the norm here, the atmosphere of friendliness sometimes clouds. On the occasion of this particular Quicken security visit, Josh said the security guard, a portly woman in uniform, came in and "bamboozled" him with questions over by the pastry display case. While she distracted him, a man smartly attired for business went over to the opposite door. Josh turned around in time to see the door closing as the guy finished peeling something off of it. Unsure at first what was missing but aware that something strange and sinister was happening, Josh ran after him, yelling to not mess with his property.
The man scrambled into the alley and Josh returned to his post in the coffeeshop, where the security guard flubbed through some story about having forgotten her wallet. She would have to come back later, she said. "She was lying! It was so weird. I knew something was up." When she pulled a U-turn on Griswold, heading north away from the Quicken headquarters, he ran up the block and watched as the man exited the alley and dove into the marked security vehicle. She sped off, running a red light.
The sticker in question is a humble black and white thing, a gritty illustration of Dan Gilbert between text reading "FOR YOUR PROTECTION! DAN GILBERT IS WATCHING YOU". Josh still has a couple, but they're definitely not out on display with the menagerie of postcards and stickers and flyers arranged in front of the window. He digs through the drawer and sets one on the copper countertop.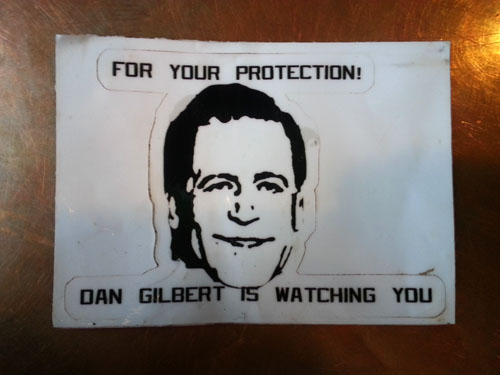 "I don't know where they came from," Josh claims. "Somebody just dropped them off. I didn't even put that one on the door; somebody must have stuck it on in the night. I guess they didn't like it," he said, referring to the Quicken people. Looking at all the "approved" stickers still neatly lined up next to the door, it's curious what flies — an Apple logo superimposed with the "SAVE DETROIT" sticker featuring actor Ryan Gosling's face, a larger version of which is on view next door at d'Mongo's. What do these messy hijinks convey about Empire Detroit's agenda? At very least, it's unclear now who is authorized to watch over or "save" Detroit.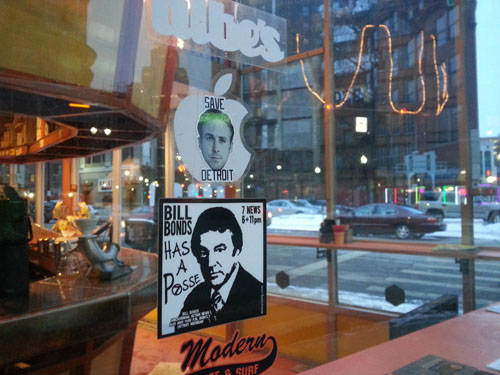 Josh still seems pretty indignant over the whole affair. "I saw her across the street a week later. I went up to her car and said, 'So what was that all about?' 'I don't know what you're talking about,'" she told him icily, denying what had taken place. She shrank away from her window as Josh, becoming more irate, tried to jog her memory of the incident.
Tampering with private property — or stealing, if you like — is not a good way to make friends with your neighbors, legalities aside. There's no way of knowing from where the directive came to shape up the neighborhood image. Perhaps the sticker-peeler, who Josh doesn't recall having seen before, was a customer somehow offended by the graphic and wanted to take some lunch break action. That a corporate getaway car was so readily available to him makes the situation undeniably sketchier.
As we celebrate the broader walkability improvements Dan Gilbert has made to downtown and bite our nails over some of its accompanying pitfalls, it's worth noting the most liminal ways our landscape is changing as more of it falls into fewer hands. The thing with having money is, if you don't like something, you can just buy it and morph it into what you do like. Let's hope this is the first and last affront on the free speech and free existence of small businesses like Urban Bean Company that make Detroit the great city it is and will be.
It seems that a city with such financial troubles resulting from a single-industry livelihood would have learned some kind of lesson about having a Big Three in charge, whether of our local economy or our land. Monocultures are bad news for any ecosystem. Rambling back uptown past Cass Park, which the city appears poised to hand over to the Ilitches, the point is even clearer.
What will the "longest-enduring member of Detroit's real estate plutocracy," as Curbed called pizza emperor Mike Ilitch, do with our once-magnificent public greenspace? The park is reportedly to be preserved as a "park space," which we hope won't be later construed as a "parking lot space." If, incredibly enough, the area is developed into something like what it once was, or like New Center Park, and the sculptures offend us, do we get to tear them down? In the case of such defacement, something hints that the only getaway ride for the public is in the back of a cop car.