It's the shortest day of the year; the longest, darkest night. The winter solstice is traditionally a time of turning inward to reflect on the cycles of nature. It's an auspicious opportunity to take old familiar paths, pondering changes in the self and its environment. There have been many such changes.
Last year, the warmth of good intent cut through the cold. Someone was tending a fire in a barrel in Redmond Plaza, a welcoming flame inviting anyone who walked through to linger and warm themselves. Today the park is empty, but not on account of the cold or precipitation. It was fenced off months ago, the shiny metal barrier enforcing its vacancy for no discernible reason. The park's visibility and the absence of any construction make its inaccessibility infuriating. On a few rare occasions the gates have been unlocked and people will amble beyond them, but it's unclear why they open these times and not others.
The weekend community barbeques that have been happening here for years are still scheduled to occur. A few folks gather around the perimeter, maybe in anticipation of this, sitting on the two chairs at the corner and perching on the concrete ledge. One of the only people I see often at the park these days is the guy who dances wildly in the crosswalk on Second, wearing headphones. He's often preoccupied, but sometimes he notices me and militantly barks a greeting.
The lot belongs to the city recreation department, but it's slated for redevelopment by Midtown, Inc. in the coming year. Next door we'll get a new restaurant, but what good will come for the people who previously spent time in the park? I doubt I'll be getting catcalled much anymore while travelling through that intersection, but who will be there to wish me a good morning with such exuberance? Neither is the domain of the hipster or young professional, the kind of "Detroit by Detroiters" for whom this development is taking place.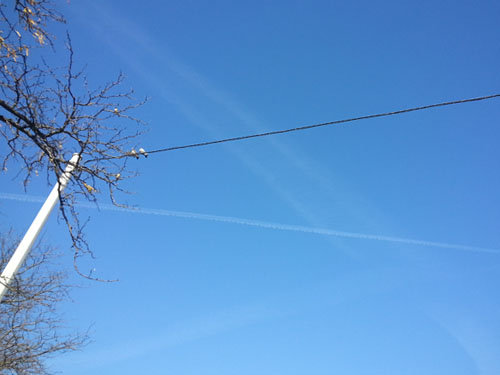 It's also one of my favorite corners for pigeons in the city, probably as many as at Rosa Parks Transit Center, but with fewer comings and goings, disruptions. They're used to the presence of humans, seem to have a symbiosis with the people who hang out here. They're not afraid of anything. If I stand there for a moment, sometimes they'll all flutter down at once, landing close and inspecting my boots, maybe mistaking them for one of their own kind.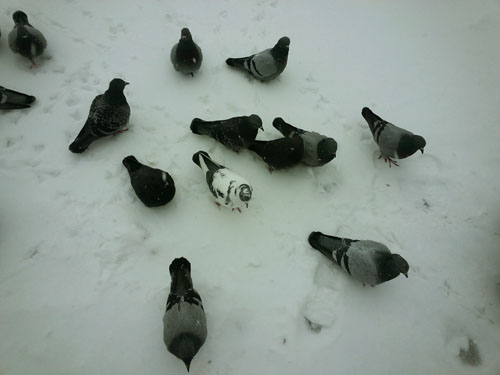 When, like Third last year, Second gets its makeover into a two-way street with fancy bike lanes, where will the pigeons go? Nobody really cares about pigeons (though you can usually find a good spread of birdseed nearby at Third and Alexandrine), but a place too busy for birds impacts foot traffic, too. Will we have to contend with cars coming fast from both directions? For all its increased bikeability, the revisions to Third fail when considering the lack of safe crosswalks for pedestrians.
What will this intersection look like in a year? In ten? What will it look like then in our memories?
UPDATE: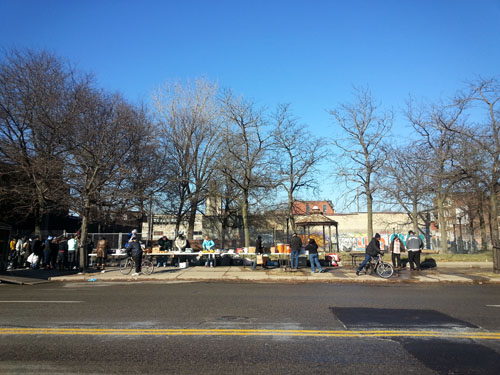 A week later, volunteers are setting up for the community barbeque, positioned in a line along the sidewalk. As others dither over whether to put the fruit next to the desserts, one man tending some coals tells me that they tried to get permission to continue using the park, but were turned down. "I don't know why they don't want us in there," he says sadly. "We're just out here having some fun, feeding people, doing God's work."