Saturday's commute isn't quite as fantastic as Ezra Jack Keats' famous treatise on the merits of snow days, but it's close.
Snow is hitting me in the face. People come bundled in pairs, shuffling along. It's hard not to think of duos boarding the biblical ark before the flood. In questionable logic, pedestrians take to the streets as cars grapple for traction.
A pair of medics are out in front of an apartment building, waiting agitatedly. As I hike closer to them, one yells, "Hey, are you the patient?"
"The patient? No," I holler back, laughing. How, in this moment, hale and red-cheeked, might I look as though I require medical assistance? Maybe these perambulations are an outsider's preoccupation.
They shrug, frustrated, and climb back in the ambulance. When I catch up with them a minute later, they roll down the window. "How far are you going? Do you need a ride?"
"No, I'm fine," I say, all instinct, "Just to the library," abbreviate my course for their benefit. The streets aren't empty; the buzz is that the library is closing early. Hastening is absurd. There's still time. The snow slows everybody's footsteps, covers their tracks.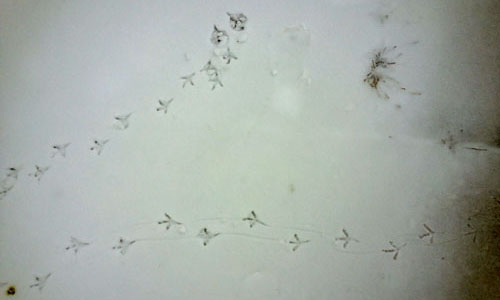 Darkness takes longer than usual to show up this evening. When it does, the snows reflects light, giving the sky has that comforting wintery pallor. It brings about memories of being small and warm, someone making hot chocolate with marshmallows, the lofty roof of a blanket fort overhead. Brushing off my coat and hat, I take the long route home, searching for snowmen other than myself. There aren't any yet. No snow angels either, but residents are out with shovels and brooms in a seemingly futile effort to keep the still-falling snow. Someone walks with a dog up past its elbows in fluff.
All in all, it was hardly a snowpocalypse. The National Weather Service claims just six inches of snow in Detroit, but as the blustery flakes fell into windswept dune-like formations, it seemed like more. Of course, winter is yet to come.