Looking back at 2013's top news, Motor City Muckraker reminds us of their survey two years after the city's installation of curb cuts allowing pedestrians with disabilities access to some of the infamous "sidewalks to nowhere" that truncate abruptly in weeds, unkempt trees, garbage, and rubble.
This is especially interesting in retrospect given the ongoing struggle over curb cuts, which included a wheelchair protest last month on the west side, where crucial intersections are lacking any kind of ramp for sidewalk access.
The curb cuts in question are the result of a 2005 lawsuit against the city by an Ann Arbor lawyer on behalf of Michigan Paralyzed Veterans of America and the Center for Community Access, the settlement of which stipulated that Detroit revamp its ramps. Detroit installed many curb cuts in the 1980s, before new Americans with Disabilities Act requirements were established in 1991. Specifically, the nubbly "detectable warning" surfaces on modern ramps are made of reddish rubber, while old ones sport concrete nubs or smooth surfaces making wheelchair traction a challenge. Never mind that the rubber ones tend to shear off and can sometimes be found decorating the gutters like cheerful Heidelberg dots.
In his article, Steve Neavling makes no mention of where the tax dollars came from, intimating that Detroiters should take umbrage at this, as if it were exclusively city money that financed these measures of questionable necessity. The headline alone, "Detroit spent $45 million on sidewalk ramps to nowhere while sinking into debt," implies that Detroit had the option of spending the ADA sidewalk compliance funds on other city services, like streetlights, firefighters, or police, when this was not the case. While revenue from Detroit's gas tax funded some of the ramps, the federal dollars that covered the rest of the bill were specifically earmarked for this purpose. Whatever the source, noncompliance with the court order is likely to have a higher price tag, both financially and socially.
"The law is clear as a bell that curb ramps have to be installed at every intersection," attorney Mark Finnegan told the Free Press. This includes the mostly abandoned areas to which Neavling takes exception, failing to note that it's often these places where higher concentrations of elderly people and people with disabilities live, those who are less upwardly mobile and unlikely find themselves using the ADA-approved ramps downtown. As one commenter put it, "They're not going to write in the law… 'Every city must comply, except Detroit, which is a lost cause.'"
The problem with Detroit's ADA compliance is less that it is doing it citywide, but that it is doing it with no discernible order. Areas that receive a lot of traffic and might be prioritized, like Eastern Market, are still missing appropriate curb cuts in unexpected places. It seems that merely keeping track of which curbs have already been addressed would be a bigger job than it's worth. The oversight feels spiteful. In explanation, Detroit Department of Public Works director Al Jordan told the Free Press in 2010 that installing curb cuts on main roads where pedestrian crossings are absent might communicate that it's safe to cross the street at any point where there are ramps, assigning the blame to larger infrastructure issues.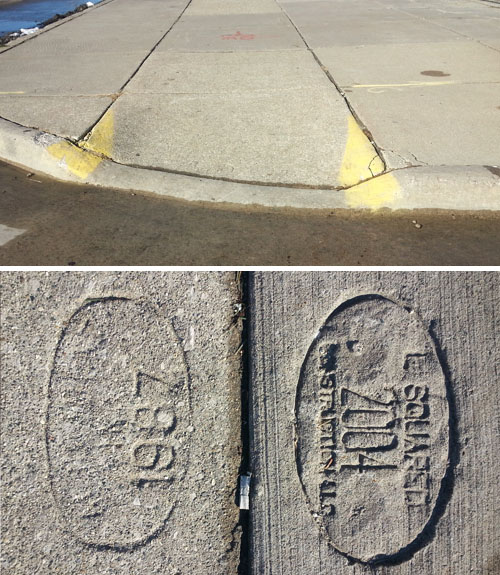 Neavling, responding to a comment, said that "[s]ome dense neighborhoods received [no curb cuts] while many desolate areas, some with no houses on a block, received installations." No area is immune to this illogic, however. In some of Detroit's higher-density, more walkable neighborhoods, curb cuts have been replaced as nonsensically as anywhere else. Creating ramps where there are no sidewalks in populous areas is as wasteful there as it is where sidewalks terminate in wilderness a few paces from the intersection, but hardly makes for a sensational headline.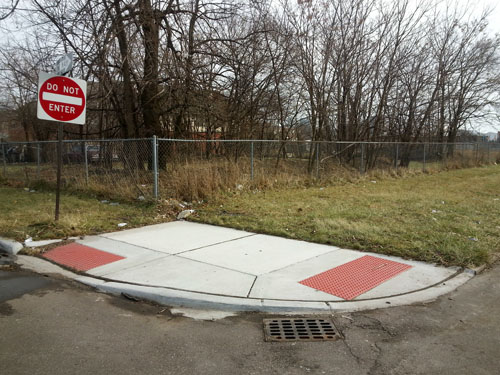 A block away from this corner, curb cuts have not been replaced despite being on a reasonably well-trafficked sidewalk running along a main road.
For once, Detroit isn't alone in its dysfunctionality with regards to this issue. It's happened everywhere there are attorneys trying to pay back their law school debt and everywhere stimulus plan dollars can stretch, like a small town in Oklahoma, where residents bemoaned a $90,000 sidewalk leading to a ditch that was replaced three times in a five-year period before finally arriving at ADA compliance. At least these curb cuts have only been replaced once that we know of.
And who's to say that these curb cuts in largely vacant spaces such as the Packard Plant lead to nowhere — maybe the arrival of new neighbors will lead to development in these unlikely areas. This sidewalk will be perfect for Fernando Palazuelo's morning stroll.
For a project already of such boggling duration, it seems a darn shame that such muckraking is still needed, and that we will likely be hearing lots more about Detroit's sidewalk woes in 2014.