You wouldn't know it, but earlier this month, a pedestrian died crossing Grand River at Martin Luther King Jr. Blvd.
Posting in a private facebook group for the neighborhood, a Woodbridge resident said:
"My wife witnessed a pedestrian/vehicle accident at MLK and Grand River tonight (outside of the liquor store on GR). Person was wearing all black and bending over in the middle of GR to pick something up, and got creamed. Not a hit-and-run; the person stayed. Cops came and threw a tarp over the guy so he probably didn't make it. Please be careful out there."
November 6 at 8:42pm
Responses were instantaneous and sympathetic, many expressing wishes that the post author's wife was okay after the the trauma of unexpectedly witnessing the incident. Some focussed on the accident, deeming it "messed up" and "tragic, but not surprising at all." One person said, "Hopefully there will be lights someday."
What is disturbing is how anonymously this person vanished — no news report, no memorial, unknown to all except those who were passing by and the select community of people in this facebook group. A person "creamed" and covered by a tarp — this is how it ends?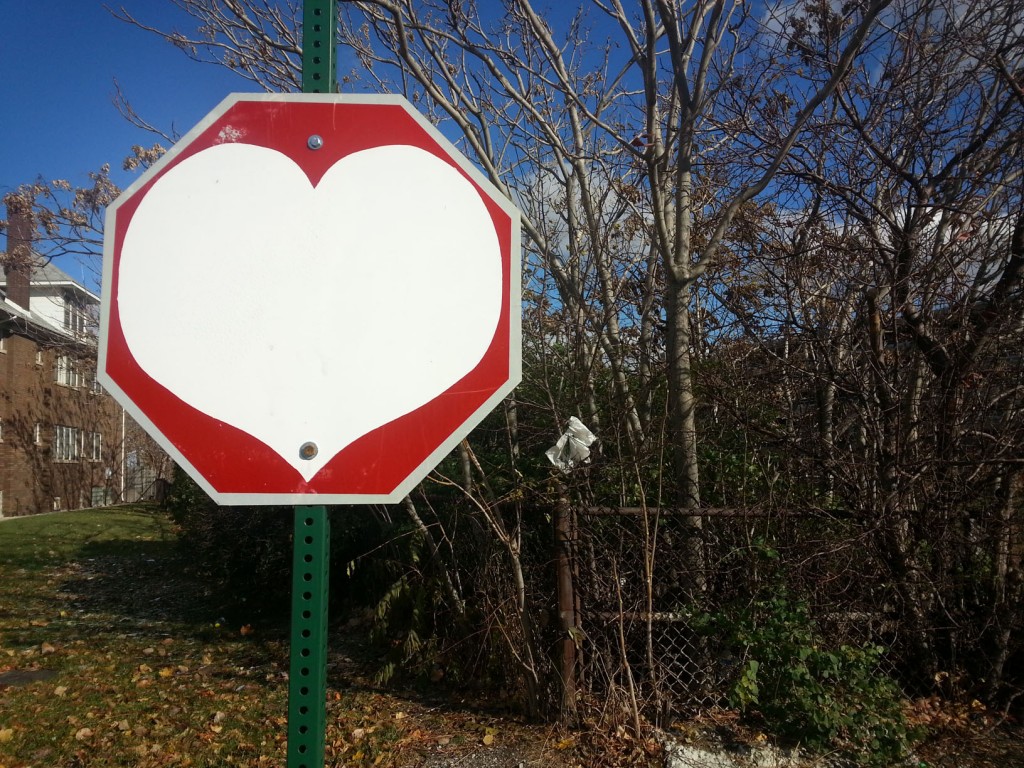 Pedestrian fatalities have attracted sporadic media attention, usually used to highlight some more universally lamented city flaw. The hit-and-run crash at Gratiot and Russell this summer resulting in the deaths of the "Eat 'em up, Tigers" guy and his friend Dreadlock Mike, both local celebrities of a sort, were depressingly construed as an opportunity to talk about the shabby state of Detroit's streetlights. While undeniably streetlights in the city are a problem impacting pedestrian safety, it's a hot enough topic on its own to attract scorn from the New Yorker without going so far as to invoke the emotional appeal associated with these deaths.
In some ways, the disparity in coverage is unsurprising — most deaths go quietly, unnoticed by the larger public, so why should the passings of pedestrians be any different? The news has an obituaries section for a reason, and certainly there are more dramatic ways to perish than being smushed by a car. The difference may be in that these deaths are in some way public — they occur outdoors, on streets we all use daily. Shouldn't we know if people are dying by preventable external factors that effect us as well?
Commenting on the original post about the crash, another neighbor said, "Ever since the ghost bike appeared at Temple/Grand River I've been extra cautious biking on Grand River." Ghost bikes have been around for the past decade, perhaps taking inspiration from a San Francisco artist's work, painting white and chronicling abandoned bikes he saw as 'skeletal remains.' Ghost bikes now function as a memorial to a deceased cyclist and as a reminder to drivers to watch out for other road users.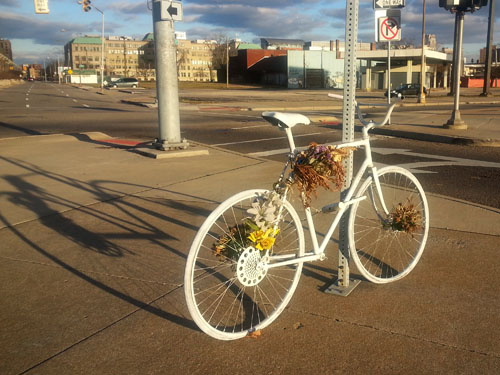 Since pedestrians don't have bikes or other implements, what is an appropriate memorial that will similarly serve to caution drivers? Teddy bears and other plush objects clinging to a tree or pole risk perception as public art, an escaped Heidelberg project installation taking up residence. Roadside flowers, candles, crosses, and memorabilia are often seen at the sites of car accidents or shooting deaths. A plastic sign disappears too quickly, cardboard disintegrates.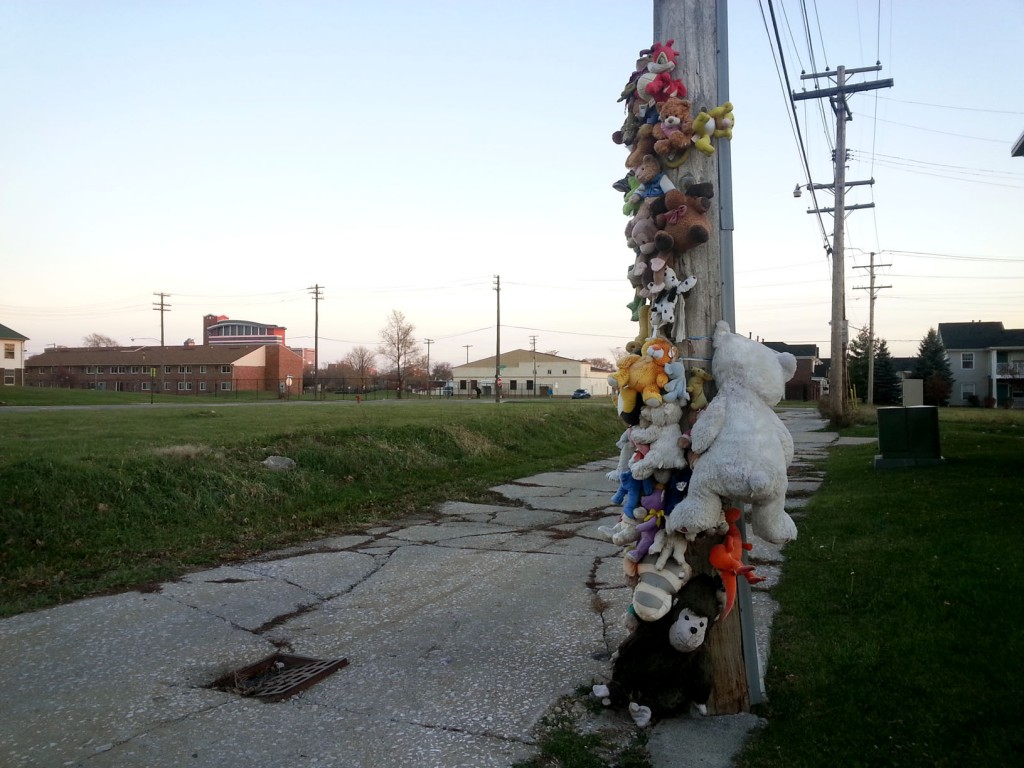 As for Grand River and MLK, the last time a pedestrian died there was on a Saturday in May 2012, when an intoxicated elderly man hit a woman with his Mercury Mountaineer on Grand River just north of Ash. It was past midnight. She died. The accident report contains no mention of a tarp. This intersection is hardly the densest location for vehicles crashing into pedestrians, but it is more deadly than the surrounding areas, where crashes resulted in either no or "nonincapacitating" injuries. MLK and Woodward was also the site of two crashes, and Cass and Michigan, a seemingly less complicated intersection, had three nonfatal crashes last year.
Detroit saw a total 435 crashes involving pedestrians in 2012, according to data from Michigan Office of Highway Safety Planning's Michigan Traffic Crash Facts, which amazingly has full accident reports for each incident. Thirty-one of these crashes were fatal, and 12 of those, about 38%, were hit-and-run. This is about 62 crashes per 100,000 citizens in Detroit, compared with 18,558 total car crashes of all types, or 2645 crashes per 100,000. A little more likely than being struck by lightning, which victimizes 0.14 of 100,000 people.
As much as we hate to admit it, Detroit is a dangerous city for walking by these metrics, but the good news is that it's nowhere near as bad as it was. The average pedestrian fatality rate for 2012 in Detroit is 4.42 per 100,000 people, compared to the national average of 2.33. As of 2010, Detroit's fatality rate was reported to be 10.31, almost twice that of Chicago, as the Transport Michigan blog pointed out, immortalized in a labyrinthine infographic from GOOD magazine. Still, Detroit has almost twice the national average, making it one of 22 focus cities eligible for grant money "to try out new education and enforcement initiatives."
Constructive thinking and potential solutions are not hard to come by. One of the five entries into Let's Save Michigan's Highways for Habitats contest is a redesign of the Grand River-Trumbull-MLK intersection by Jimmy McBloom, who says he travels through it daily and doesn't "know a single person who doesn't think it's completely ridiculous." Results of the contest will be announced later this week, although it's unclear how winning will effect change other than providing the winner with a new bicycle to ride through the same hazardous intersections.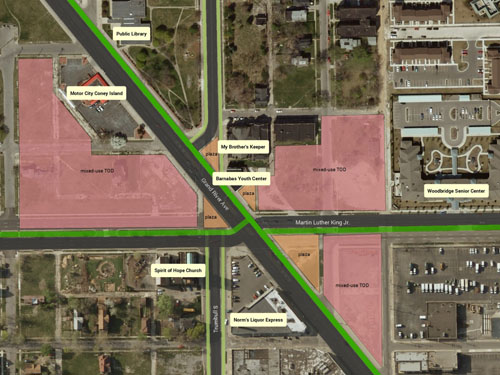 Check back soon for more on this subject. Meanwhile, on your way over to Norm's Liquor Express to pick up something to celebrate Detroit's commendable decrease in pedestrian fatalities, make sure to look both ways before crossing the street(s) of this uncompromising intersection.