Everywhere you go around here, there are pennies on the ground. Doesn't anybody stop to pick them up anymore? All reports indicate the answer is no, not usually.
The summer before last, a guy walked around taking inventory of some 13,000 trees on city property, providing data to the U.S. Forest Service about the species and their health. On foot, he noticed many small features that others miss. As he told the Environment Report, "I've actually been collecting pennies on the sides of the roads for, like four months. I cashed in 2,200 pennies yesterday. People just don't pick them up anymore apparently." This is really a small wonder when, for those without a bank account, many financial institutions refuse to cash them in, a population at a certain intersection with those who might be out collecting change in the first place.
What to do with these thousands of pennies?
The Heidelberg Project's "Penny House" burned down a few mornings ago. Incredibly, ridiculously, it is the third Heidelberg house to be destroyed by arson this year, first the "Obstruction of Justice" house, followed by the "House of Soul" last week. Of course, this isn't the first time the houses have been threatened, recalling the mayorally-sanctioned demolitions that have occurred twice in its history.
When Tyree Guyton was planning the "House that Makes Sense," he aimed to collect 384,000 pennies, some sent in by kids all over the country, some collected by Guyton himself. Today, he was walking around the block in a jacket with an orange dot on the back, holding the most perfectly ordinary hammer in his hands. "You heard it here," he said, "We will not not stop. We will rebuild this bigger and better. The hard work is ahead." I asked if he was still collecting pennies. Yes, he replied, although he has no idea how many the Heidelberg Project possesses now. Fortunately, he said, with staff to handle the numbers, he is able to focus on creating. "I still pick them up, too, though," he said. "And we're about to put up some more pennies on the 'Penny House' right now."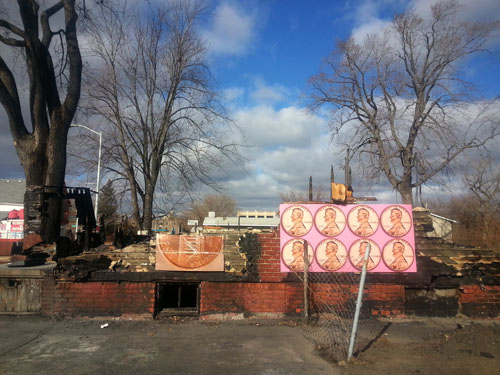 As accustomed as we are to its presence, as much as we might scoff at its attractiveness to the 275,000 visitors who come to see it every year, garnering a revenue $3.4 million for Detroit, it's a serious, meaningful piece of art that all who live in the city are lucky to have. If it's a tourist trap, it's the best around. The day after the arson, WDET producer Laura Weber Davis was talking with Bankole Thompson on the Craig Fahle show when she compared the cultural capital of the Heidelberg project to that of the DIA, asking, "Should people be more outraged?"
They should, he agreed. But as Guyton himself said today, "We're over it. We're moving on." To help secure the project and continue construction of one of the most unique public art projects in the world, you can donate here. When you're out walking, you can start picking up all the pennies you see dotting the ground.
"Tyree took stake in his community, and as a result, not a single serious crime was reported within a two block radius of the project for over 26 years." Who can object to such artful living? This is why we're here, this network, to watch out for each other, to make our communities better by being present.
Donate to the Heidelberg Project's fundraising campaign here.