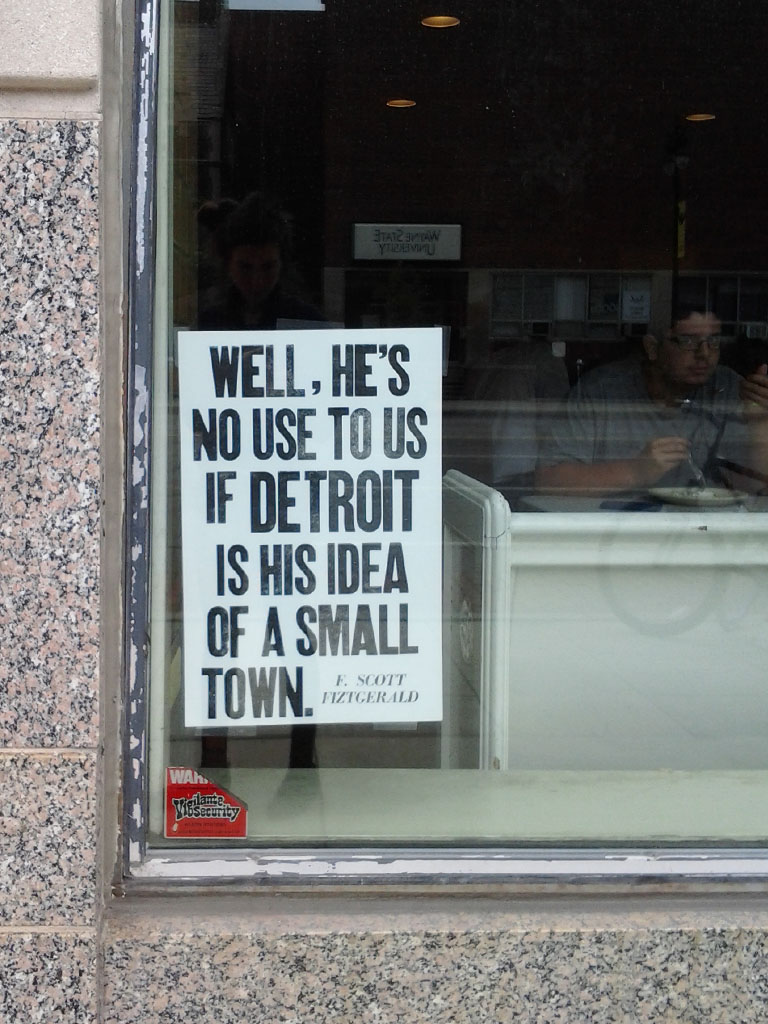 They stood side by side examining it. I was going to ask to see the rubies when the phone rang, and Gatsby took up the receiver.

"Yes… Well, I can't talk now… I can't talk now, old sport… I said a SMALL town… He must know what a small town is… Well, he's no use to us if Detroit is his idea of a small town…"

He rang off.
Walking past the window of the creperie, this sign feels like a reminder that, however citified or gentrified, Detroit is still a wild west of sorts, a frontier. A city populated by outlaws, cowboys, and pioneers with rough hands tending chickens in backyards. If this is anyone's idea of some dinky podunk outpost, we don't need them here, their disrespect, their stagnant, unconstructive attitude.
In the context of Detroit's rebound (bankruptcy filings aside; there wasn't a crepe shop here five years ago), is there any irony in placing this sign in the window? The Great Gatsby, the glamorous and tragic story of the darker reaches of American dream in the prosperous 1920s, incidentally a period of great growth in Detroit, is often interpreted as a warning against decadence in a burgeoning economy. Perhaps this looks too far forward — in the meantime, the more congenial message promoting solidarity and change is welcome.
Print by Ben Friedman available on Etsy from Signal Return Press in Eastern Market. First time I've seen one of these hanging up around town.