As summer bleeds into fall, the note of death is already in the air among the fading leaves and crisp breezes.
Sometimes literally so: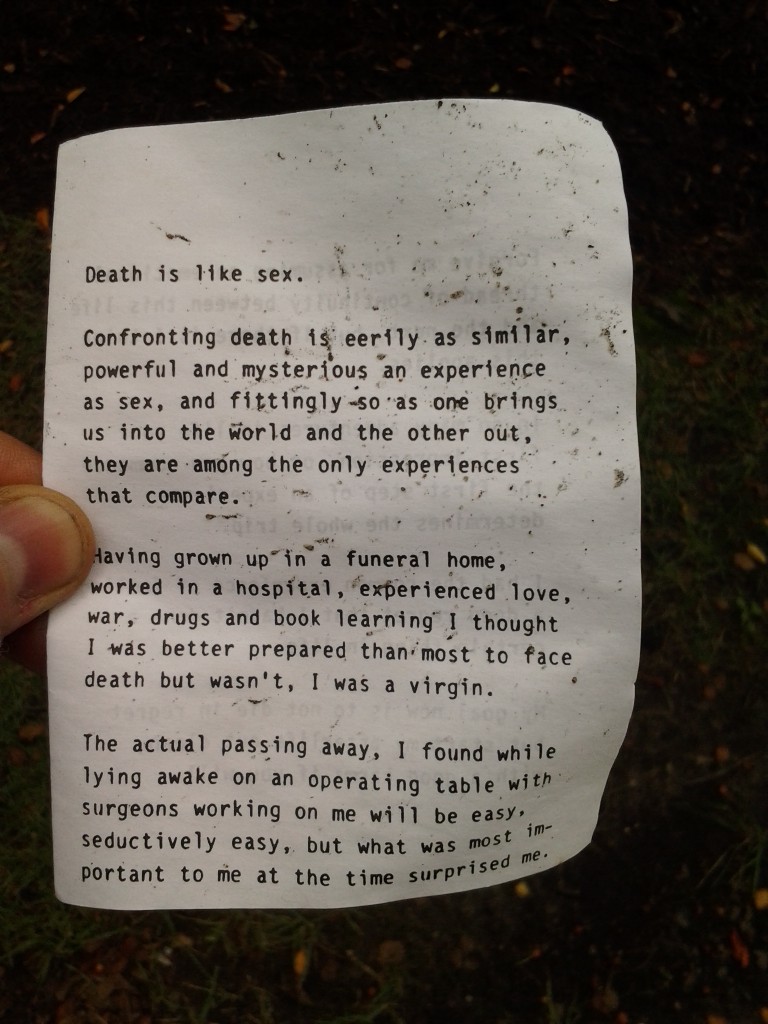 So many words to pin on such a fleeting instant. For scale, imagine the duration of a 100-mile conversation. What would you talk about all that while? It turns out that death is just the subject of a 100-mile conversation. Two gentlemen in funny yellow pants talking about death in British accents for a hundred miles — almost comic.
It is and it isn't. The 100-Mile Conversation is a project organized by two artists, Nathan Burr and Louis Buckley, to use the landscape as a tool to shift perspectives on the difficulties of discussing death with openness and honesty (and, we hope, humor). "Understanding the true definition of landscape to be an inner emotional state that we project onto our surroundings," said Nathan Burr, the walk was intended to overcome cultural and conceptual obstaces as well as the usual hills, roots, and rocks. The walk took place over several days, beginning in Winchester, moving along the South Downs Way National Trail, and ending in Beachy Head, a notorious and perhaps ironically-named hotspot for suicide jumps, where chalky cliffs project over the sea.
Death-talk enthusiast Clare Davies joined them for half of the walk. Other than walking and talking about death with anyone who had the temerity to come along, they occupied themselves camping, making little videos, and looking at lichen, which certainly seem less mortal than soft humanity. Their guests included Virginia Woolf's biographer, psychologists, archeologists, musicans, a paranormal investigator, and of course more artists. Coming up on the end of it, Davies saw a table, and "as I got closer, blue and yellow balloons tied by strings to its legs, dancing, hysterical, in the wind." As a Death Cafe host, she said,
"The purpose? To discuss suicide. Bringing the cake had been my idea. How apt, I'd thought, how crazy even, to celebrate the project's end by drinking tea on a cliff edge; how right, somehow, to celebrate life with an abundance of cake at a beauty spot marred by the sadness of suicide jumpers."
Itineraries and transcriptions from conversations can be found on the project blog, along with other depressing but potentially enlightening words.
In Detroit, what would a 100-mile walk around issues of mortality look like? Quite different from the kinds of death that live in the lonely hills of England, or the infamous bridges of San Francisco. In a city, death is all over the streets, in the houses and apartments, piling up in hospitals and cemeteries. If we walked a mile for each homicide this year, where would we be? A 100-mile conversation starts to seem as short as life itself.