What makes one thing more beautiful than another? Sometimes beauty can be measured, like the symmetrical arrangement of facial features; other times, it remains wholly elusive. What makes this landscape lovelier than that? What makes one street more appealing than the next? It's a simple matter to characterize a neighborhood's well-being by population flow, crime statistics, health trends. As Frank Hebbert of OpenPlans says, "But it's harder to establish the softer feeling: Is this a place I like? Would I prefer the street on the left to the street on the right? That's not a metric, but a gut feeling about comparing places."
This last quandary is what the people at OpenPlans have set out to quantify and solve. For Valentine's Day, they launched the Beautiful Streets project, which asks visitors to choose the more appealing scene out of the two options presented on the page. The site is populated by images of Philadelphia from Google Street View.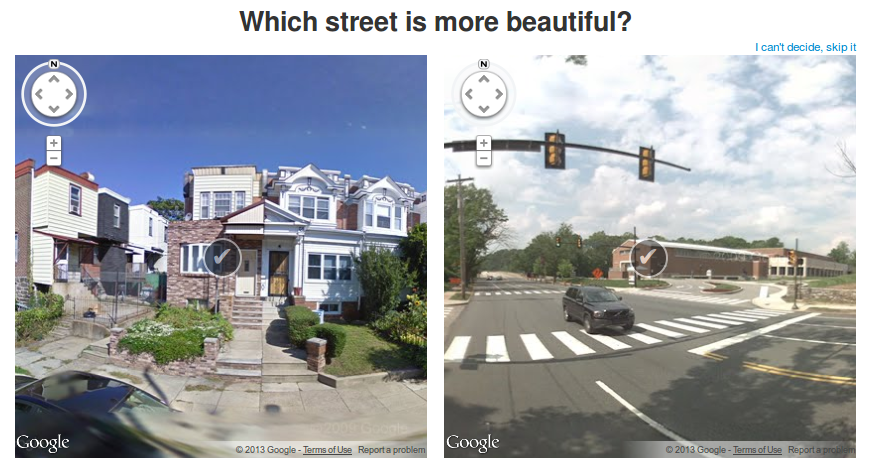 Not everything in Philadelphia is beautiful, and this is what works so well about this project — its unabashed realism, albeit through a fisheye lens. Fortunately, there is a 'skip' button for each pair. While sometimes one image seems almost objectively fairer than the other, it is more often than not hard to tell which streetscape would better lend itself to a good stroll. Ask yourself: what are my priorities? Trees, shrubs, sidewalks, density and attractiveness of buildings? What about the instances when these fine things are in competition? It's challenging, too, to base a judgement solely on the content of the image, without yielding to the enticements of good composition or blue skies, the distortion of lenses and the fleeting smudges of cars. It's tricky enough deciphering where the sidewalk leads in the umbrage of trees, and whether it would be nice to walk in their shade, or peering past the bridge to see whether the shops are worth visiting without having to assign a superlative to either potentiality.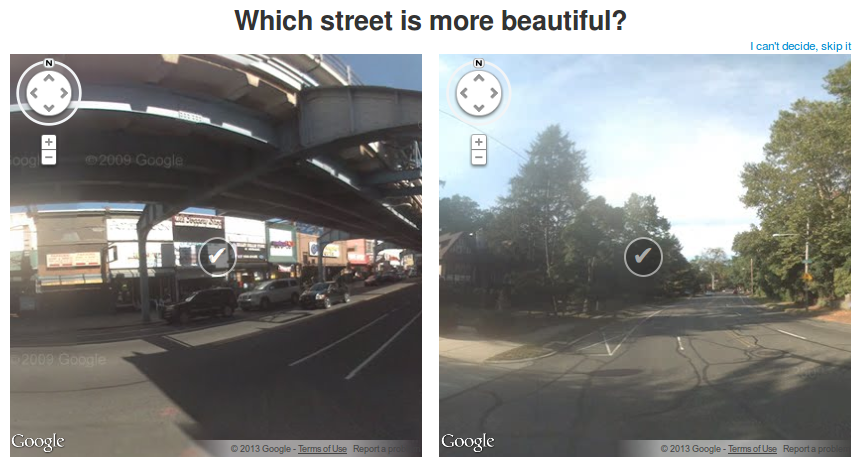 Whether Beautiful Streets will become the data goldmine the planners intend is a dubious unknown, but meanwhile it's fun to flip through the images, taking a gander at the views of human nature on display. Read more about Beautiful Streets at the Atlantic, or help make the Beautiful Streets project more meaningful with your input!